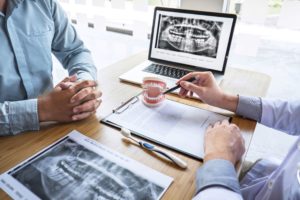 Dental implants are considered by many dentists to be the best choice to replace missing teeth because they're the only method that includes a rod that functions like a root. That means they not only look like your natural pearly whites, but they function similarly, too!
Before proceeding with treatment, however, you and your dentist will have a consultation appointment. After all, you want your dentist to thoroughly understand your oral healthcare needs and history. This visit is also a perfect opportunity for you to ask any questions you have so that you also feel informed. Keep reading to learn 3 questions to ask before moving forward with dental implants.
Question #1: What Is Your Experience with Dental Implants?
Both you and your dentist need to feel confident and calm during your procedure. Dentists have training and experience in different services. Some may have performed countless dental implant surgeries, and others may have only recently begun. The more practiced they are, the more likely it is to go smoothly. As the patient, you need to know that you'll be well taken care of. A dentist who's well-versed in the process helps you feel like you're in good hands.
Question #2: Is Everything Completed In-House?
If your dental office has the right equipment and technology, it's possible you'll be at their location throughout the entire procedure. This means you'll be working with them as the sole provider for treatment. Other dentists refer patients out-of-house for surgery and then bring them back to their location to place the crown after everything has healed. To minimize extra visits and expenses, it can be helpful to find a dentist who does it all on-site.
Question #3: Do I Qualify for Dental Implants?
It's imperative that your mouth is in good health before you can have dental implants placed. Your dentist will need to examine the condition of your teeth and gums to ensure you're a valid candidate. If you have tooth decay or gum disease, the harmful bacteria could infiltrate the surgical site and result in infection or dental implant failure.
Also, because our body reabsorbs bone mass when we lose teeth, your dentist will need to ensure your jaw has enough density to support the restoration. If not, you might need a bone graft first.
These are just a few of the many questions you'll need to have answered prior to the big day. Your dentist will also provide specific pre-op information and aftercare instructions that you should follow to a T. They want to do everything they can to ensure your dental implants are placed successfully and last for years to come!
About the Author
Dr. Daniel Weldon earned his bachelor's degree in Biochemistry from the University of Florida, followed by his Doctor of Dental Medicine from the University of Florida College of Dentistry. He also completed the Implant Educators Comprehensive course through the world-renowned Spear Education. Most recently, he has become a master in the International Congress of Oral Implantologists. He's an expert at dental implants and can work with you from start to finish! You're welcome to request a consultation on the website or by calling (352) 622-3236.