Dental Implants — Ocala, FL
The Strongest and Most Durable Tooth Loss Solution
In the past, the only way to replace missing teeth was with a dental bridge or dentures. While these options restore the appearance of your smile, they don't quite measure up to real teeth. Thankfully, these aren't your only options anymore! If you're looking for the strongest and most durable tooth loss solution, look no further than dental implants in Ocala! This state-of-the-art treatment replaces teeth with the next best thing so you can get back to enjoying all the benefits of a complete, comfortable, and confident smile! To learn more about dental implants, keep reading below and give us a call today to schedule your consultation!
Why Choose Weldon General and Cosmetic Dentistry For Dental Implants?
Potentially Replace Any Number of Missing Teeth for Life
Highly Experienced Dentistry Dr. Weldon Completes Entire Treatment Under One Roof
Reasonable Dental Implant Prices and Flexible Financing Options Available
What Are Dental Implants?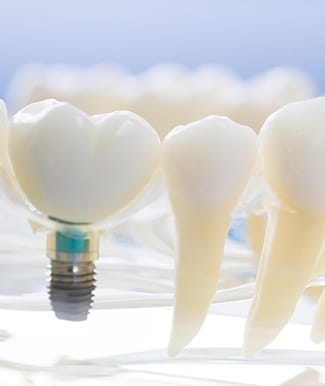 Unlike other tooth replacement options, dental implants are designed to replace the entire structure of a missing tooth. In fact, it's the only option that restores the roots of missing teeth! Essentially, a dental implant is a small titanium post that acts as a prosthetic tooth root. It can be inserted directly into the jawbone where the missing tooth used to be. Since titanium is a biocompatible material, the post will gradually fuse with the surrounding bone tissue to become part of the jaw. This provides the final restoration on top the same kind of stability and comfort you would expect of a natural tooth. Depending on how many teeth you're missing, one or more dental implants can be used to support a custom-made crown, bridge, or denture. In the end, rebuilding missing teeth from the roots up gives you a smile that looks, feels, and functions just like natural! That's why patients and dentists alike consider dental implants to be the gold standard of tooth replacement.
The Dental Implant Process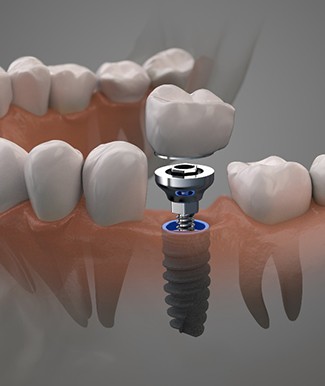 Replacing missing teeth with dental implants is a multi-step process. In order to ensure the smoothest and most successful outcome, Dr. Weldon will perform each step of the dental implant treatment with the upmost care and attention to detail possible. During your initial visit, our team will break down each step with you in-person so you know exactly what to expect ahead of your surgery. While we're happy to answer any questions you may have, you can start learning about the process right away!
Initial Dental Implant Consultation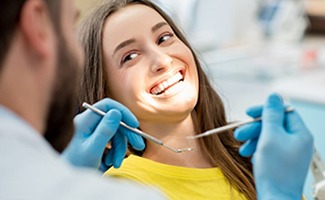 First, Dr. Weldon will evaluate your jaw to determine whether or not it is strong enough for the proper anchoring of the implant post. If adequate bone tissue is not present, a bone graft may be recommended first. Once the oral environment is right, the implantation can occur. This is a surgical procedure completed with extreme care and expertise by Dr. Weldon. Doctor Weldon is a fellow in the International Congress of Oral Implantologists. The ICOI accreditation process provides practicing dentists with terrific education and training regarding dental implants.
Dental Implant Surgery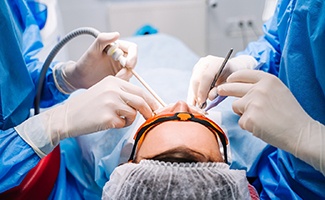 During the surgical portion of treatment, Dr. Weldon creates a small incision in your gum tissue in order to access the bone where the implant will be attached. Upon creating a tiny hole for the implant to be housed in, the titanium post is placed and the gum tissue is then stitched closed. The length of surgery largely relies on how many implants need to be placed, but more often than not, it will be completed in a single appointment.
Dental Implant Osseointegration & Abutment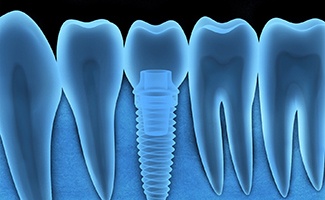 After the implant post has been placed in the jaw, healing begins and will take place over the course of 4 to 6 months. This is the time when osseointegration, or the fusion between the jaw and implant post, takes place. You may wear a temporary tooth replacement if needed. It is very important to avoid habits that could interfere with this healing period, such as using tobacco or situations that could knock the implant out of place (i.e. playing sports without a mouthguard.)
Once the implant has fully integrated, we can attach a dedicated abutment to the implant post. This connector is meant to provide long-term stability to the restoration. To place the abutment, the gum tissue is reopened, the abutment is attached, and then the tissue is stitched closed. From there, an additional couple of weeks are needed before the permanent restoration can be placed.
Delivery of Dental Restoration(s)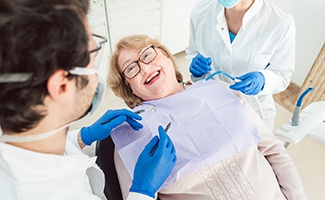 After the implant post is secure in the jaw, you'll return to our office for the second part of the procedure -- final restoration. First, the top of the implant is exposed and a connecting abutment is placed. After one more brief healing period, your custom-made dental crown, bridge, or denture is affixed on top of the abutment. Then, you'll be all set to start enjoying your newly rebuilt smile!
Benefits of Dental Implants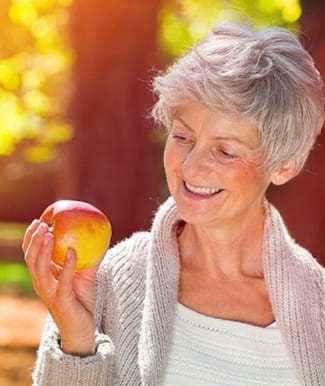 There are many teeth replacement options available today; however, when you begin to compare the benefits of dental implants in Ocala to dental bridges or dentures, you will find there is no comparison. With their permanence, increased stability, longevity, and continuous stimulation to the jawbone, it's easy to see why they are so popular, especially among the already 3 million people living with them in the United States. If you are still trying to consider your options, take a look at just a few of the many ways dental implants can positively improve your life.
Day-to-Day Benefits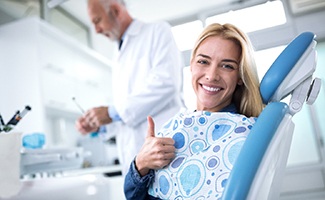 Better oral health – Dental implants look and act just like regular teeth, so no matter how many are missing, you're likely to devote more time to taking care of your smile.
Improved bite force – Dental implants give you a much stronger foundation compared to any other tooth replacement. They allow for natural functions like chewing, even if your favorite foods include steak, corn on the cob, apples, nuts, or any other foods you couldn't eat before.
More youthful appearance – By replacing your missing teeth with new, artificial ones, it helps to fill out your cheeks and minimize the risk of a sunken appearance. As a result, you can maintain a more youthful look.
Health Benefits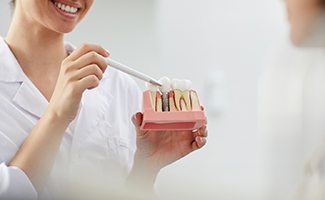 No dental drift – Instead of being worried about your teeth shifting out of alignment, dental implants help to keep your natural ones firmly in place. This makes it possible to lower your risk for orthodontic treatment later on, which can become quite costly.
Continuous jawbone stimulation - Because implants are anchored inside your jawbone, the bone is being stimulated any time you chew. This stimulation allows you to keep your fullest biting force and prevent the bone from shrinking, which is very common among individuals with tooth loss.
Your healthy teeth remain untouched – Implants replace the root and the tooth, unlike bridges and dentures which only replace the visible crown. This also means no other teeth require buffing down to act as an anchor.
Longer Life – If you want to take added precautions to ensure your overall health and wellbeing, it's best to replace your missing teeth with dental implants. When seeing a trusted implant dentist in Ocala, you can feel confident that your chances of developing heart disease, osteoporosis, or even diabetes will lessen as a result. The reason is that many of the systemic issues that develop, do so because of tooth loss.
Long-Term Benefits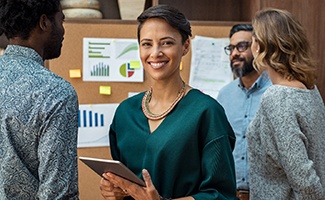 Success rate – Dental implants have incredibly high success rates. Even after 10 years, dental implants see success rates as high as 90-95%. This proves that even after many years, you can rely on them for everyday use.
Improved longevity – Dental implants in Ocala are designed to last 30 years or more. There are even reports of patients going an entire lifetime without needing to have their implants replaced.
Saving money – There's no need for denture adhesives, cleaning supplies, or regular dental visits for adjustments and/or replacements, all of which will save you valuable time and money in the long run.
Who Dental Implants Can Help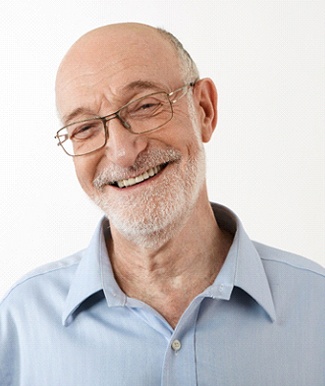 Practically anyone suffering from tooth loss can benefit from dental implants in Ocala! No matter how many teeth you're missing, as long as you are a healthy adult with good oral health and a strong jawbone, we can design a treatment plan to help you regain a complete, confident smile. During your initial consultation, we will ensure that implants are right for you. Read on to learn more about who this amazing treatment option can help!
Who Is a Good Candidate for Dental Implants?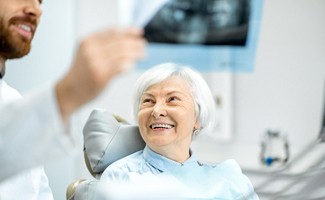 One of the benefits of dental implants is that they can be used for almost any adult patient. Usually, you will need to have these three things in order to be considered a good candidate:
Good overall health: Dental implants require surgery, so you must have good enough overall health to undergo a minor procedure.
Great oral health: Common dental problems like cavities and gum disease can negatively impact the success of your dental implants, which is why these issues must be addressed first.
Adequate jawbone density: You must have a strong enough jawbone for the placement of dental implants. We may suggest bone grafting if you have a weaker jawbone so that the implants have the volume that they need to prevent failure.
Even if it doesn't sound like you're a good candidate for dental implants, Dr. Weldon offers various treatment options that can get your smile back on track, including gum disease therapy, tooth extractions, bone grafting, and more. Once you've completed these preparatory treatments, you can get started on your dental implants!
Missing 1 Tooth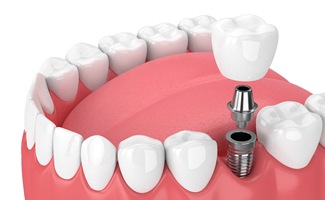 If you're missing a single tooth, an implant topped with a dental crown can be the perfect solution. The crown is made entirely from porcelain in order to provide the most beautiful appearance possible. Our crowns supported by implants seamlessly blend into the rest of your smile because we match the size, shape, and shade of your restoration to your natural teeth.
Missing Multiple Teeth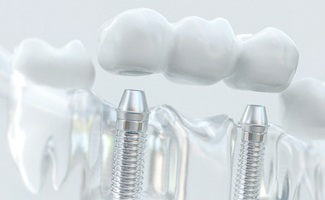 A traditional bridge can be made to replace three or four consecutive teeth. However, instead of using neighboring teeth to anchor a restoration, two implants are placed on either side. This allows our dental implant dentist in Ocala to fill in the gap of your smile while keeping the surrounding teeth healthy and intact. Plus, a dental bridge supports the adjacent teeth to keep them straight and aligned.
Missing All Teeth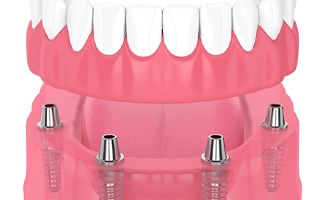 Implant dentures are similar to traditional dentures except they don't use oral structures in the mouth to stay in place. Instead, they are custom-made to snap onto four to six strategically placed dental implants. They can be designed to be fixed or removeable. This option eliminates the usual problems that come with traditional dentures, giving you a smile that is incredibly strong, stable, and lifelike. Implant dentures give you the ability to eat, speak, and smile with total confidence.
Understanding the Cost of Dental Implants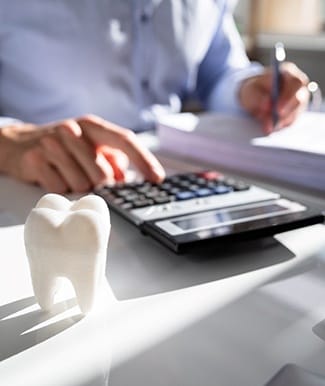 Every mouth is different, and the cost of dental implants depends upon the needs of the individual patient. We have a custom approach for each case, which means that we won't be able to give you an accurate cost estimate until we've had the opportunity to examine you in a consultation. After Dr. Weldon puts together a treatment plan for your smile, we can then review the financial details and let you know what you'll owe for your implants in Ocala.
Preliminary Treatments & Dental Implant Surgery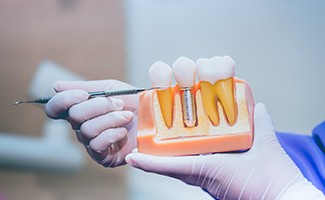 Before we can proceed with placing dental implants, we may need to perform other procedures to make sure your implants are successful. These extra procedures may include gum disease therapy, bone grafts, tooth extraction, and more. If you require preliminary treatment, keep in mind that it will incur additional cost. The pricing of the placement procedure itself can vary based on the number of implants you're receiving and how many appointments are necessary to complete the process.
The Parts of Your Dental Implant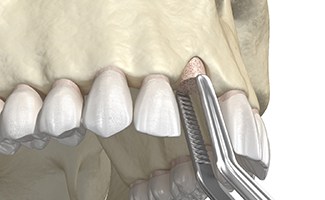 Just like with many other products like cars or coffee makers, the brand can alter the pricing of your implants, and the quality and features may vary from brand to brand. Depending on your needs, we can identify the brands of implants that will best suit your smile. During your consultation, we'll discuss your goals in detail and identify the implants that can help you achieve them.
How Dental Implants Can Save You Money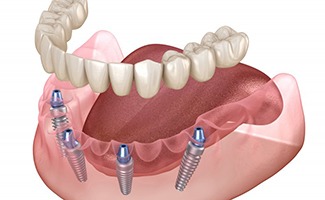 It's important to keep in mind that dental implants are a long-term investment. They're often considered the most cost-effective option for tooth replacement because of their function, esthetic and long-term durability. It's common for implants to last several decades without any issues, assuming oral care is practiced. On the other hand, traditional dentures and bridges must be replaced every few years because of changes in the jawbone. Over time, those expenses add up, meaning that implants often prove to be the wiser investment.
Does My Dental Insurance Cover Dental Implants?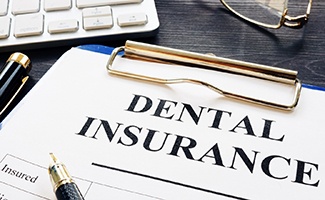 Frequently, a portion of the dental implant cost is covered by insurance, particularly the restoration and necessary preliminary procedures. Weldon Dentistry is an insurance friendly office, and we file dental insurance claims as a courtesy for our patients. However, because of the wide variation in policies and coverage, the out-of-pocket cost for dental implants can vary greatly. During your consultation, we can look closely at your policy and help you understand what you'll need to pay out-of-pocket.
Making Dental Implants Affordable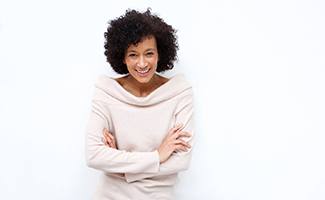 In addition to working with your insurance, we also provide a healthcare financing option for our patients. Instead of paying for treatment in one lump sum, you can divide the cost into monthly payments through financing with CareCredit. Unlike paying with a credit card, CareCredit may come with low interest or even no interest at all, making nearly any treatment, including dental implants, fit within your budget.
Dental Implant Post- Op Instructions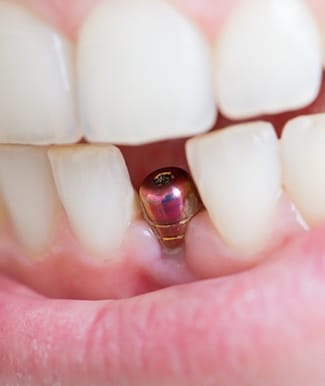 After your implant surgery, it's normal to have mild to moderate swelling and tenderness in the area for about a week. We'll review detailed post-operative instructions for caring for the area during this time and will recommend that you take a few days off to rest. Most people report that their pain was very manageable, but we'll also discuss pain medication as necessary.
Maintaining & Caring for Your Dental Implants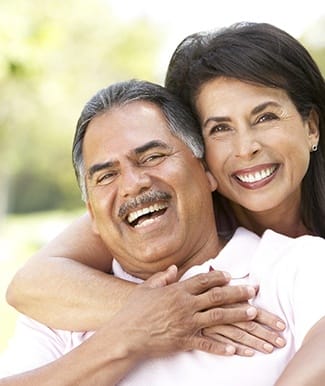 If you're looking for the longest-lasting tooth replacement option, there's no better treatment than dental implants in Ocala. In fact, they can keep your smile functional, comfortable, and beautiful for the rest of your life! However, their lifespan will largely depend on how well you take care of them. A few bad habits could weaken or damage your dental implant, while a few healthy precautions can protect it for decades to come. Read on or give us a call to find out how to maintain your restored smile for life.
Make Oral Hygiene a Priority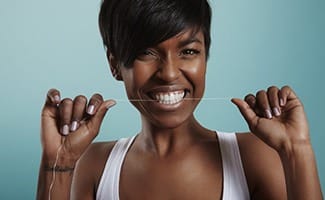 While you won't have to worry about your dental implant developing a cavity, you still need to keep it clean. A buildup of plaque and bacteria can lead to painful infections and damage the supportive tissues that help hold your dental implant in place. Thankfully, you can easily keep your mouth healthy and your implant firmly in place by:
Brushing your teeth for two minutes twice a day.
Flossing between all your teeth on a daily basis.
Rinsing with an antibacterial mouthwash regularly.
Protect Your Dental Implants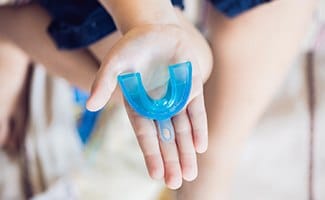 Thanks to their high-quality materials and unique placement, dental implants are easily the strongest and most reliable tooth replacement option available. However, prolonged exposure to excess pressure or a sudden dental injury could potentially break or loosen your new tooth. To keep your smile safe and intact, remember to:
Wear a custom nightguard every night if you grind your teeth in your sleep or have been diagnosed with bruxism
Avoid chewing on hard objects like pen caps, ice, hard candies, or your fingernails.
Always wear a sports mouthguard if you choose to engage in contact sports like football, hockey, or basketball.
Schedule Regular Dental Checkups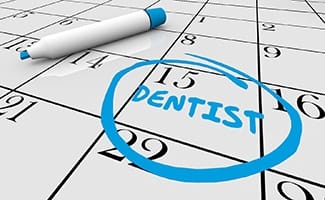 Whether you've replaced one, some, or all your natural teeth with dental implants, it's still essential that you come visit your Ocala dentist Dr. Daniel Weldon twice a year. Not only will these regular checkups give us a chance to clean and inspect your natural teeth, but we'll be able to take a close look at your dental implants as well. If we notice any warning signs of damage or infection, we'll be able to spot and stop them right away, before they become much larger, more complicated problems later. Most importantly, biannual checkups and cleanings play a key role in preventing issues from developing in the first place!
Dental Implant FAQs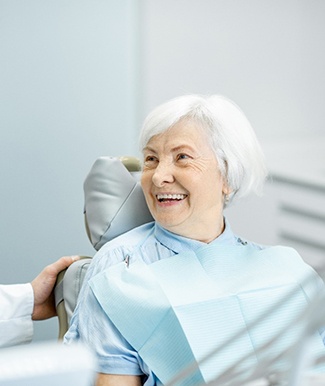 At Weldon Implant and Cosmetic Dentistry of Ocala, we are ready to help anyone suffering from tooth loss. When dental implants in Ocala become the preferred method of treatment, we want to make sure each individual has the necessary information to make a well-informed decision. Because of the investment in time and money that is required for these prosthetics, we want you to be confident when choosing dental implants, which is why we've compiled some common questions asked by our previous patients. After reviewing the following information, you are encouraged to contact us with any additional questions.
How Successful Are Dental Implants?
It is believed that dental implant placement by a skilled and licensed professional has a success rate of 95%. Of course, much of this depends on how well you take care of your smile after receiving your implants and customized restoration. Regular dental checkups, proper oral hygiene, healthy lifestyle habits, and eating right are essential if you want to make sure your implants last as long as possible. The success of your smile is also dependent upon the location of your implants. Those placed toward the back of your mouth (i.e., molars) may be more likely to fail because of the continuous chewing power placed on them over time.
Am I Too Young to Get Dental Implants?
Typically, most dentists will not place dental implants in Ocala until a patient is in their mid-20s. The reason for this is that the faces and jawbones of younger individuals are still growing and developing believe it or not. By placing these prosthetics into a developing jawbone, it can cause potential damage and complications.
Will I Have to Take Off Work for Dental Implant Surgery?
It is normal to take 1-2 days off work after undergoing dental implant surgery. However, no two cases are alike, so depending on how many implant posts you need, you may be required to take 3-5 days off. If your job requires you to be physically active or calls from strenuous activity, you'll need to err on the side of caution and take more days off to heal. This is why it's strongly recommended that you plan your surgery with an implant dentist in Ocala for a Thursday or Friday, so you have the weekend to take care of yourself and get ready to return to work.
Can I Get Dental Implants If I'm Diabetic?
The only real way to receive dental implants if you're diabetic is to make sure your blood sugar levels are under control. Working alongside your physician to ensure proper glucose levels can help to increase your chances of receiving permanent prosthetics. However, if your diabetes is uncontrolled, it can slow down the healing process because your immune system is weakened. As a result, it will make it much harder for your implants to fuse with the jawbone. Before receiving dental implants, make sure you speak with your primary care physician or endocrinologist about ways you can take better control of your blood sugar.
Get in Touch with Us Today!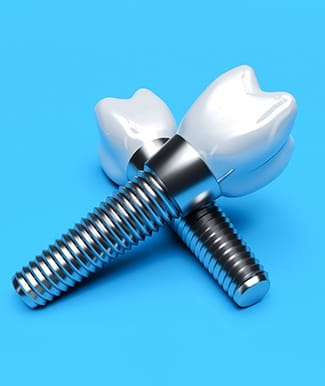 At Weldon Implant and Cosmetic Dentistry of Ocala, we're proud to give you the superior dental care that you deserve. Dr. Weldon has extensive training in dental implants and is even a Fellow of the International Congress of Oral Implantologists, so you can rest easy knowing that your smile is in good hands. If you have more questions about dental implants or how to care for them, feel free to call us and schedule a consultation today!