Dental Implants in Ocala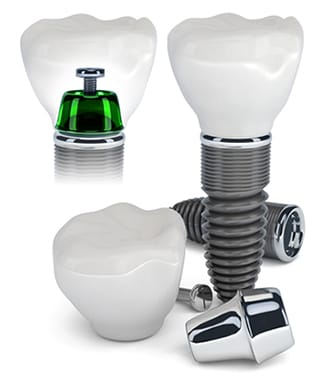 Since the invention of dental implants in the 1970's and 1980's and the beginning of implants in dentistry, the Dental Implants in Ocala has seen tremendous advances in the technology. Implants are now permitting us to accomplish things we never would have been able to accomplish previously. At Weldon General & Cosmetic Dentistry, we are thrilled to be offering the residents of Ocala dental implants technology and treatment that is cutting edge. Below is some great information regarding implants. We of course welcome questions if you would like to discuss your individual situation.
What are Dental Implants?
Dental implants are a permanent way to replace a missing tooth, multiple missing teeth, and an incredibly successful addition to treatment that involves the entire mouth. A dental implant is essentially and artificial tooth root that is permanently anchored in the upper or lower jaw bone just like real teeth. Implants look and function just like real teeth. No more slipping, uncomfortable dentures! Dental implants are seen as the future of dentistry and the future is here. Implants are not a new form of treatment and recent developments have made it one of the most successful and predictable treatments that a dentist can offer. Feel free to check out our smile gallery page showing some of our work utilizing implants!
A dental implant is generally constructed of titanium. The implant is placed into the jawbone in the site of a missing tooth. Due to a process termed "osseointegration", the bone essentially grows together with the implant itself. The result is an extremely strong foundation. Screwed into the implant is an abutment. This is essentially a connection between the implant and the crown that will be placed on top. The crown is the visible portion of the tooth replacement. The results often cannot be distinguished from a healthy natural tooth.
Who Needs Dental Implants?
The indications for dental implants are numerous. An implant can be placed in many of the situations where a tooth or teeth have been lost. Many of the problems with other forms of tooth replacement therapy have been answered with the invention of dental implants. Unlike partial dentures or bridges the implant does not require an anchor from neighboring teeth. It truly can be a single tooth solution to a single tooth problem. Age is no barrier to the success of implants so it is never too late to have a tooth or teeth replaced. To find out if implants would benefit your particular situation, feel free at any time to contact us electronically or call us at (352) 622-3236.
What is the Dental Implants Procedure?
The endosteal (in the bone) dental implant procedure is a multi-step process. Following a comprehensive exam with Dr. Weldon, an evaluation of the proper x-rays, and a thorough consultation, the dental implant procedure can be started. If the jawbone is not thick enough a bone graft may be done to create sufficient bone to anchor the implant. A hole is then placed into the bone and the implant is placed. This dental implant will essentially serve as a replacement root structure for the tooth, allowing it to be anchored into the jawbone. After a period of healing and integration between the bone and the implant, the abutment is placed. After the abutment is placed the gum tissue will heal over the course of a few weeks. After healing has completed, the crown can then be placed.
How do I Care for Dental Implants?
The normal care for implants is nearly the same as the care for natural teeth. Brushing, flossing, and routine visits to your dentist are just as important if not more important. Many people believe that an implant will allow for neglect of oral healthcare procedures. This is far from true. Implants can suffer from implant mucositis which is analogous to gingivitis and peri implantitis where the body begins to destroy the bone around the implant due to a chronic infection. To protect against these issues, normal cleanings and exams with the dentist are in order. It is important to note that with normal exams and adequate oral hygiene, implants are an extremely successful and predictable form of treatment.
What is the Difference Between Dental Implants and Conventional Dentures?
Most patients that have dental implants describe a more comfortable lifestyle than that experienced by those who have fixed bridges, removable partial dentures, or full dentures. Dentures can slip, slide, and rock in the mouth. In addition, dentures sit on the soft tissue of the mouth and inhibit optimal chewing force. An implant is anchored in the bone and allows for much more force to be used during eating.
What are Implant Supported Dentures?
For more information regarding the use of implants to anchor and support dentures, feel free to visit our dentures page to read about the various way in which implants can be utilized for more than just single tooth replacement.
How Much do Dental Implants Cost?
Every mouth is different, and the cost of dental implants depends upon the needs of the individual patient. Frequently, a large portion of the dental implant cost is covered by insurance. Weldon Dentistry is an insurance friendly office and we file dental insurance as a courtesy for our patients. However, because of the wide variation in policies and coverage, the out-of-pocket cost for dental implants can vary greatly. We also provide a healthcare financing option for our patients without dental insurance. You can read more about payments and financing by clicking here.
Doctor Weldon and Dental Implants
It would be challenging to find a dental implants dentist in Ocala more qualified than Dr. Weldon. Doctor Weldon is a fellow in the International Congress of Oral Implantologists. The ICOI accreditation process provides practicing dentists with terrific education and training regarding dental implants. Learn more about Dr. Weldon's education, background, and community involvement by visiting our practice.
We would be glad to see you in our office for a complete evaluation, where we will do our best to develop a health plan to make dental implants affordable. Feel free to contact us electronically or calling us at (352) 484-0469.