Meet the Ocala Dental Team
At Weldon Implant and Cosmetic Dentistry of Ocala, we are extremely proud of our team. Our common goal is to create and maintain healthy teeth and gums for life for all our patients. This truly is a team effort. If you are new to our practice or would simply like to learn more about our team, feel free to read below. We have provided a short bio of each member. We believe that reaching our common goal begins with a healthy relationship between each member of the team but also between the team and our patients. Feel free to reach out at any time with questions or comments!
Claudia, Office Manager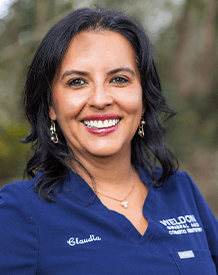 Claudia has been working in dentistry for nearly 15 years, both as a dental assistant and as our dedicated manager. She loves helping people and taking care of teeth, so the job is a perfect fit! At home, she is the proud mom of two grown sons. When she isn't busy answering questions for patients, she enjoys watching soccer and spending quality time with her family in California.
Kelly, Treatment Coordinator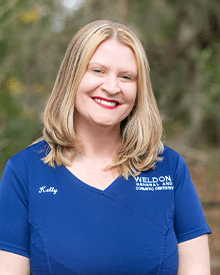 Kelly studied at Middlesex County College; today, she's been working in the dental field for nearly 15 years. She is extremely passionate about her job and providing excellent care to patients in need! Whenever a problem arises, it's in her nature to fix it, and her goal at the end of each day is to leave people feeling great about their smile. At home, she has two teenage boys. Her top hobbies in her free time include taking cruises, lounging at the beach, and shopping.
Kelsey, Dental Assistant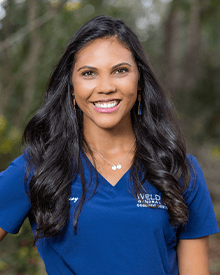 Although Kelsey is relatively new to our team, she has nearly a decade of experience in the dental field under her belt! She is originally from North Branch, MN, completing her studies at Dakota County Technical College. Today, she is an Expanded Functions Dental Assistant with additional training in CPR. For her, the best part of her job is hands down seeing the joy and confidence that comes from bettering one's oral hygiene. Away from the office, she enjoys spending time with her husband, daughter, and Black Lab. She also likes going to the beach, visiting Disneyland, and working out!
Felicity, Dental Assistant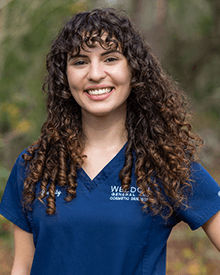 As a Florida native, it was only natural for Felicity to pursue her studies at the College of Central Florida. Now, she is DANB certified and an Expanded Functions Dental Assistant. Some of her favorite things about her job include learning new things every day and helping patients feel more comfortable in the treatment chair. In her free time, she loves roller skating, skateboarding, doing yoga, and painting. Here's an interesting fact about her: she was in gymnastics when she was younger and strived to be in the Olympics!
Crystal, Expanded Functions Dental Assistant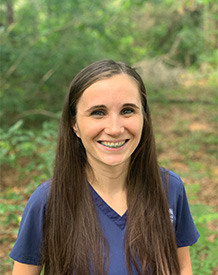 Crystal's hometown is Starke, FL! She attended Fortis College and earned her Expanded Functions Dental Assistant certification before joining the field of dentistry. Today, she thoroughly enjoys helping patients overcome their fear of the dentist. Outside the office, you'll most likely find her soaking up every moment she can with her two kids and husband. One interesting thing you may not know about her is that she grew up on a farm with mini cows and chickens.
Jennifer, Dental Hygienist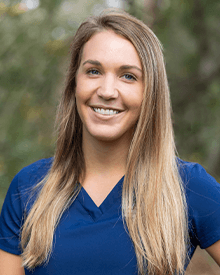 Originally from Tennessee, Jennifer completed her studies at MTSU and Remington College of Dental Hygiene. Now she has roughly a decade of experience in the world of dentistry! Throughout that time, she has thoroughly enjoyed meeting and interacting with patients. Away from the office, Jennifer enjoys spending time with her family, paddle boarding, going to the beach, hiking, camping, and doing CrossFit.
More to Explore