Facial Fillers in Ocala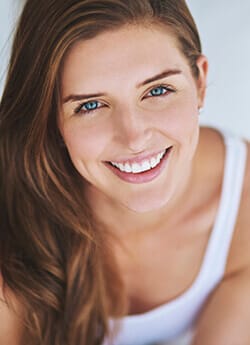 The face is a complex collection of angles, shapes, and colors created by teeth, soft tissues, and over 40 muscles. As we age these angles and shapes become altered because of changes in the muscles, gravity, and a loss of the skin's elasticity. This results in wrinkles and the gradual elimination of a youthful appearance. At Weldon Implant and Cosmetic Dentistry of Ocala, Dr. Weldon understands the art and science of maintaining a youthful and rested appearance through the use of facial fillers. If you are unfamiliar with facial (dermal) fillers, we encourage you to read below!
What are Facial Fillers?
Facial fillers are used to treat moderate to severe facial wrinkles and folds. These fillers are generally composed of hyaluronic acid. Hyaluronic acid is found in nearly every cell in the body and can be found in large amounts in bones, cartilage, eyes, skin, and joints. It is often referred to as "nature's cushion". This water loving material is injected into specific areas to restore volume to parts of the face that have lost musculature and stored fat which have resulted in a wrinkled appearance.
JUVÉDERM®
JUVÉDERM® is the first gel formation hyaluronic acid filler approved by the FDA to last up to one year after initial administration. It is composed of a smooth gel that flows smoothly into the designated area and provides extremely predictable results. JUVÉDERM® flows into lines and hollows which creates a more natural, youthful contour.
Juvéderm™ VOLUMA™
Juvéderm™ VOLUMA™ is one of the latest in the hyaluronic acid products from Juvéderm™. This product has a higher level of crosslinking fibers which results in a stiffer product. This makes Juvéderm™ VOLUMA™ an excellent treatment to restore mid-face volume. Recent studies have shown Juvéderm™ VOLUMA™ to last up to 18 months.
If you would like to see real life before and after examples of Juvéderm™ facial fillers, click here to visit Juvéderm™ website.
If you are in Ocala or surrounding communities and would like a consultation to determine if dermal fillers could benefit you, feel free to contact Weldon Implant and Cosmetic Dentistry of Ocala at any time by clicking here or call us at (352)622-3236.