Tooth Extractions in Ocala, FL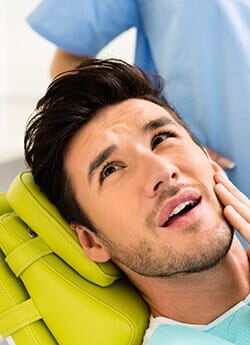 Weldon General & Cosmetic Dentistry performs many extractions for residents of Ocala and the surrounding areas. When a tooth is severely decayed, irreparably broken, or impacted, you and Dr. Weldon may decide it will be most beneficial to have the tooth extracted. Maintaining healthy natural teeth is one goal in dentistry but the extraction of a tooth or teeth at times is inevitable.
We believe that there is no replacement for healthy natural teeth. We attempt to save teeth in every situation. When extractions are necessary, we will make every attempt to provide this treatment in a comfortable, relaxed, and caring environment.
Often this is the best choice for multiple reasons. A severely decayed tooth can become infected or cause abscesses. Often one or multiple teeth are severely decayed or broken, creating an unsightly smile and causing embarrassment and social distress. Dr. Weldon does everything to ensure the process is as quick and painless as possible. Prior to removing the teeth, you and the doctor will discuss appropriate ways to replace the missing tooth, including dentures, crowns and bridges, and implants.