Tooth Extractions – Ocala, FL
Setting a Foundation for a Healthier and Stronger Smile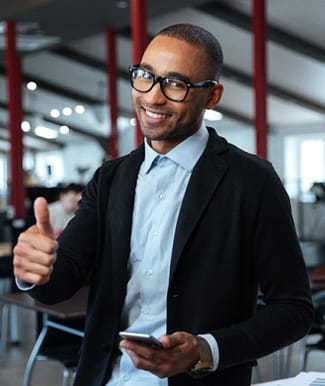 Weldon Implant and Cosmetic Dentistry of Ocala performs many extractions for residents of Ocala and the surrounding areas. When a tooth is severely decayed, irreparably broken, or impacted, you and Dr. Weldon may decide it will be most beneficial to have the tooth extracted. Maintaining healthy natural teeth is one goal in dentistry but the extraction of a tooth or teeth at times is inevitable.
We believe that there is no replacement for healthy natural teeth. We attempt to save teeth in every situation. When extractions are necessary, we will make every attempt to provide this treatment in a comfortable, relaxed, and caring environment.
Signs That You Need a Tooth Extraction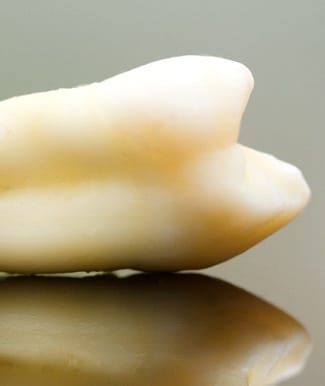 Many people fear the worst if they have a painful toothache. However, that isn't the only sign which would indicate your need for a tooth extraction. Here are some of the most common symptoms to keep an eye out for:
Your tooth is visibly damaged or decayed and repairing or filling it isn't a possibility.
The root of your tooth is infected, and a root canal and antibiotics didn't cure it.
Your teeth are crowded and there's not enough room in your mouth to straighten them out with braces.
You have impacted teeth because there's not enough space in your jawbone to allow them to properly and healthily grow in.
You have loose teeth as a result of gum disease.
If you notice any of these signs, immediately contact your emergency dentist in Ocala, Dr. Daniel Weldon, today. We will examine your mouth and determine whether a tooth extraction in Ocala is the best treatment option for you.
Types of Extractions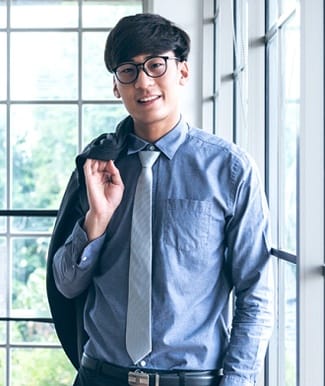 When you visit our office, we'll take images of your mouth to determine what the issue is and how we can fix it. Depending on what we examine on the X-ray, we may suggest one of the following treatments.
Wisdom Tooth
Some people's mouths simply don't contain enough room to house their third molars, which are also known as wisdom teeth. They can become stuck beneath the gum and increase your risk of developing an infection, decay, or even misalignment problems. If they're putting your overall oral health in jeopardy, we'll recommend a wisdom tooth extraction in Ocala.
Multiple Tooth
Some patients need to have multiple teeth removed due to factors like genetics, trauma, or severe decay. In this case, Dr. Daniel Weldon will outline the procedure with you and provide you with restorative options to help regain the function and look of your smile.
Preserving Your Oral Health After Extraction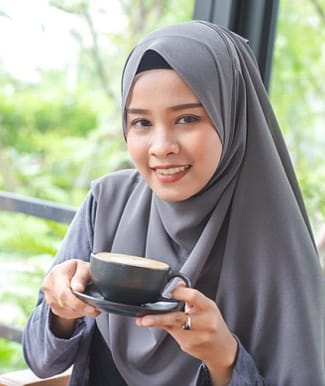 If you're having a tooth extracted which will leave a gap in your smile, we'll likely recommend a restorative treatment to complete your grin and preserve your jawbone density. Each of your teeth are connected to your jawbone and provide it with vital stimulation and blood flow. Without them, the density of your bone will begin to dwindle. To prevent this from occurring, we may recommend dental implants in Ocala or another restorative solution.
Tips For a Fast Recovery
After your tooth extraction, Dr. Weldon will provide you with a list of post-operative care instructions to ensure that your gums heal quickly and with minimal pain or discomfort. We may recommend that you:
Take a couple of days or longer to rest.
Maintain a soft diet and avoid chewing on the side of your mouth where your extraction sites are.
Take mild painkillers to ease any discomfort.
Use a cold compress to minimize swelling.
Don't drink from a straw.
Maintain your dental hygiene routine, but don't brush the extraction site directly.
If you have any questions or concerns after you get home, don't hesitate to call our team. We'll provide you with any additional information you need to make sure that your mouth is healthy and you heal without complications.
Understanding the Cost of Tooth Extractions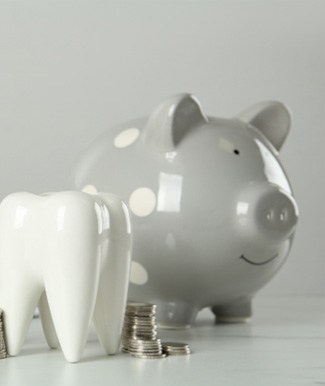 You only get one set of natural teeth as an adult, so it's very important to take proper care of them. Even so, there are instances where someone diligent about oral hygiene will still require a tooth extraction in the interest of their oral health. If your emergency dentist in Ocala said having one removed is necessary, it's not unusual that your first thought might be to wonder about how much it is going to cost. It's not easy to provide an umbrella answer since it comes down to the specifics of your particular case. To gain a better understanding of what goes into the expense, keep reading or contact our office!
Factors That Can Affect Tooth Extraction Cost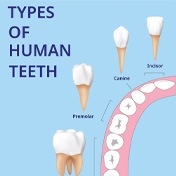 No two cases are exactly the same which is why it's not feasible to provide you with an accurate cost estimate until we conduct an exam. At your initial appointment, our team at Weldon Implant and Cosmetic Dentistry of Ocala will evaluate your situation to pinpoint what's necessary for your tooth extraction. Multiple factors can influence the overall price of your procedure including:
Complexity – The type of procedure you'll need can also affect the overall price. For example, an impacted or erupted tooth extraction will cost more than a simple extraction because the treatment is more invasive.
Location – The location of the tooth that's being pulled can influence the total cost of your extraction.
Anesthesia – Some patients will feel comfortable with just local anesthetic, while others may request dental sedation.
Does Dental Insurance Cover Tooth Extractions?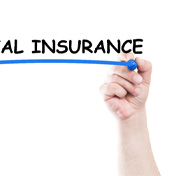 Fortunately, most dental insurance plans will partially cover the cost of tooth extraction in Ocala after the deductible has been met. However, it's worth noting there might be certain limits in place. For example, only a particular number of teeth may be covered, or perhaps there's a waiting period before coverage kicks in.
Before committing to treatment, it's a good idea to contact your insurance provider and confirm the details of your plan. Our team will be happy to help with this step to try to maximize your savings.
How to Make Tooth Extractions Affordable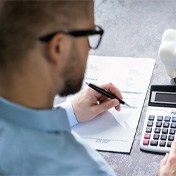 Don't have dental insurance? No problem! There's still a way to make your dental bills easier to manage. You can separate the cost of treatment into easy monthly payments through the trusted financing company CareCredit. Our team can answer financing questions and help you apply for it.
If your dentist in Ocala recommended a tooth extraction, don't worry! We are going to make sure you understand the procedure and develop a plan that makes sense for your budget.
Tooth Extractions FAQs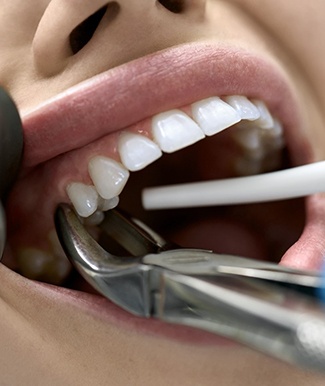 Since tooth extractions aren't typically as routine as treatments like checkups or fillings, it's natural for patients to have questions about this procedure. As always, our team is available to provide the specific answers you're looking for at your initial appointment or, in some cases, over the phone. However, we know that some patients really value being able to do their research online first. For this reason, we've responded to a few of the most frequently asked questions about tooth extractions in Ocala below.
Does Getting a Tooth Pulled Hurt?
Before the procedure, your mouth will be numbed with a local anesthetic. It will help you feel comfortable during the extraction, and you shouldn't feel any pain at all! However, expect some soreness and discomfort in the first few days following the extraction. You can easily manage your symptoms by diligently following the aftercare instructions you were given. Taking proper care of your mouth after extraction will not only promote faster healing but lower your risk of infection. If your pain worsens or you begin to exhibit other symptoms like developing a fever, contact our office right away for assistance.
How Should I Prepare for My Tooth Extraction?
Preparing for your tooth extraction is just as important as taking the right steps for recovery after the procedure. Before your extraction, we'll answer any questions you have and explain how you can prep for your appointment. Our team will provide you with specific instructions like only drinking water or picking up prescription medication. Make sure you have arrangements for someone to drive you home after the appointment since you'll likely receive local or general anesthesia.
What's the Recovery for Tooth Extractions Like?
Once the procedure is complete, your dentist in Ocala will give you a list of aftercare instructions. These are designed to help you prevent infection and heal comfortably. Some of the most important best practices are getting plenty of rest, keeping your mouth clean, sticking to soft foods, not spitting, and refraining from tobacco use. To keep discomfort at bay, you can place a cold compress against the outside of your cheek for 10 minutes at a time and take over-the-counter pain relievers as instructed. Around the three-day mark, you should begin to feel better.
What Are My Options for Replacing a Missing Tooth?
Filling the gap in your smile following a tooth extraction is essential for both appearance and function. For this reason, we will recommend a dental bridge, dentures, or dental implants. While dental bridges can replace 1-4 teeth, they need to be in a single row for this tooth-replacement solution. Partial and full dentures are a tried-and-true choice that can address moderate or severe tooth loss but cannot stimulate your jawbone to prevent bone loss. Fortunately, dental implants can effectively replace one, a few, or an entire arch of teeth. Since the implant posts are inserted directly into the jawbone, they are incredibly lifelike, extremely stable, and able to last for 20-plus years with proper care.