Ocala Children's Dentist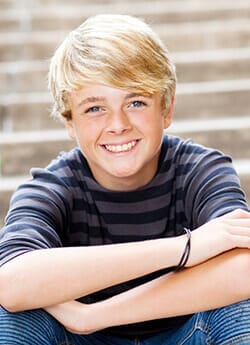 At Weldon General & Cosmetic Dentistry, we strive to educate Ocala and surrounding areas in all areas of oral healthcare. The healthcare of your children is important to us. Although the number and detail of topics regarding dentistry for children is too large to cover on one page, we have attempted to answer some of the frequently asked questions. We of course welcome questions and comments at any time.
Are you unsure about when to take your child to the dentist, the importance of "baby" teeth, and how to care properly for your child's oral health? If so you are not alone. Chances are you learned oral healthcare information from your parents or caregivers and they learned it from their parents or caregivers. The trouble is that much of this information is outdated and we now have scientific evidence that has allowed us to create best practices.
Pediatric dentistry is an extremely beneficial form of preventive dentistry. The treatment is specifically directed toward helping your family have positive experiences, develop effective oral health habits, and maintain terrific overall health.
When Should My Child First See a Dentist?
According to the American Academy of Pediatric Dentistry, "first visit by first birthday" is the recommended guideline. It is suggested that you establish a dental home for your child by the appearance of the first tooth. This will not only allow for an early examination that could prevent future problems but also will begin the building of a positive relationship between your child and your dentist.
What Dental Problems Can a Infant Encounter?
Early dental visits are the most effective form of preventative dentistry. The baby teeth need to be cared for just the same as the permanent teeth. Many parents in the past have ignored the baby teeth because they are only temporary and thought not to be of importance. This is far from the truth. If neglected, the baby teeth can obtain cavities, damage the gums, inhibit or expedite the eruption of the permanent teeth, and affect the child's overall health.
In addition to the preventative care there are some problems that infants can encounter. Early childhood caries is a big concern. Previously known as baby bottle tooth decay, these lesions can occur when the diet consists of anything besides breast milk. Your dentist can diagnose and properly treat these caries.
Can I Pass Decay and Disease to My Child?
This is one situation where the "know how" that has been passed down through generations can become problematic. Early childhood caries is a term for dental decay that can happen in infants. Believe it or not, parents can be the cause of this problem. We all have bacteria in our mouths. Our bacteria differs in composition and virulence from that of our child. This can be passed down to children in several ways:
Providing inadequate nutritional intake to the child
Neglecting adequate oral hygiene the child's gums and teeth
Tasting the child's food for temperature
Kissing the child on the mouth
When Should Teeth Cleaning Begin?
Earlier is better with regards to cleaning. Before the first teeth erupt, it is recommended that the gums should be cleaned with a soft infant toothbrush or with water and a cloth. This should be done even before the first teeth erupt. When the first teeth erupt, begin brushing twice daily with an American Dental Association approved age-specific soft toothbrush. When your child is less than 2 years of age, no larger than a small smear of toothpaste should be used.
What About Fluoride?
Using small amounts of fluoride regularly can prevent tooth decay by reducing the loss of minerals from the tooth structure. In most areas of this country, fluoride is added into the water supply. Many foods and drinks also contain fluoride. Fluoride is even in the air we breathe! Research has shown that the addition of regular fluoride can reduce the levels of tooth decay by up to 50%.
You may have heard that some people tend to avoid fluoride. News reports, magazines, and television have warned us against the dangers of fluoride. This is not without some amount of truth. Dental products containing fluoride should be used according to the recommendations and stored away from the reach of children. Excess fluoride ingestion can cause fluorosis of developing permanent teeth. This can have detrimental effects on the appearance of the permanent tooth structure. It is important to note that this has been studied ad nauseam and the current thorough research shows that the level of fluoride intake when utilizing products correctly is not detrimental to our health.
Can Diet Play a Role in My Child's Oral Health?
A healthy balanced diet not only provides the essential nutrients for the growth of your child but also plays a major role in the development of natural healthy teeth. The diet plays a part in the development of healthy teeth and gums as well as in prevention of potential problems. Foods that are high in sugar or starch content have a potential for causing decay. These foods often contain essential nutrients so they should not be removed completely from the diet but should be administered properly. Sticky foods also increase the risk for decay.
Infants and toddlers should never be put to bed with a bottle containing anything but water. Sippy cups should be transitioned to adult cups as soon as possible.