Cosmetic Dentistry – Ocala, FL
Improve Your Appearance and Boost Your Confidence
Cosmetic dentistry consists of any type of treatment that deals with aesthetics. While most dentists will tell you that everything we do in dentistry deals with aesthetics, there are several aspects of dentistry that specifically fall into this category. Although our main focus is the health of your smile, we understand the appearance of your teeth and gums can make a big difference in how you feel about yourself. Below you will find many of the available treatments here at our office. Should you have any questions, we invite you to contact us to schedule an appointment with our cosmetic dentist in Ocala.
Teeth Whitening
Teeth whitening is one of the least expensive and most effective ways to brighten a smile. Professional whitening is either done in-office or at home. We offer in-office whitening using Opalescence Boost technology. This can provide results in about an hour. From there, custom soft, thin comfortable whitening trays will be made. Dr. Weldon provides whitening gel to take home, allowing you to continue the process and perform touch-ups as needed.
Veneers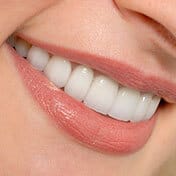 Veneers are an incredibly effective cosmetic dentistry treatment when used in the right situation. A veneer is an extremely thin (usually 1/2 millimeter) porcelain shell that is placed over the teeth. Veneers can mask, cover, or correct misaligned, discolored, cracked, chipped, or rotated teeth. While there are limitations to veneer treatment, when used appropriately the results can transform a smile.
Invisalign
Invisalign is the brand name for the leader in adult braces. Made of clear plastic, these aligners are removed during meals, so food does not become stuck in the braces. They're also removable so cleaning is much easier. With Invisalign, you can enjoy a more flexible way to attain a straighter smile as long as you commit to wearing them 20-22 hours each day. After 1-2 weeks, you are expected to swap out your current set for the next one in the series, allowing your teeth to keep moving in the right direction until desired results are achieved.
Direct Bonding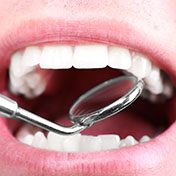 Direct bonding is a quick and more affordable way to improve the look of your smile. Using the same material (composite resin) that is used for tooth-colored fillings, Dr. Weldon will identify the appropriate shade then apply the mixture directly onto the surface of your tooth. We will then begin to shape and sculpt it into place until it adequately covers the flaw and creates a more pleasing aesthetic. Using a curing light, the resin will harden, allowing the tooth to remain fully covered and the flaw effectively hidden.
This unique process is completed in just one single appointment, making it a convenient option for busy individuals.
Understanding the Cost of Cosmetic Dentistry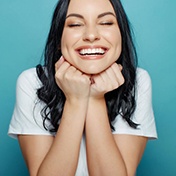 As excited as you might be for the confidence boost that comes with cosmetic dental treatment, you're probably worried about whether you'll be able to afford it. We understand that you feel this way; after all, most elective services aren't covered by dental insurance. However, this doesn't necessarily mean that the cost of cosmetic dentistry in Ocala is completely out of reach. Although every patient's treatment costs differ, our team at Weldon Implant and Cosmetic Dentistry of Ocala will help you navigate the specific services you need and your options for transforming your smile without draining your bank account.
Which Cosmetic Dental Service Is Right for Me?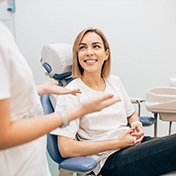 If you're seeking out cosmetic dentistry, chances are you'd like to do one (or more) of three things: straighten your teeth, whiten your teeth, or alter the size and/or shape of your teeth. As an experienced cosmetic dentist in Ocala, Dr. Weldon can determine which services would create your ideal results. Some of the services we offer include:
Direct bonding – By far one of the most affordable cosmetic dentistry options available, direct bonding can fix stubborn stains, gaps, chips, and more in a single appointment. The results typically last for five to ten years.
Teeth whitening – Another relatively inexpensive solution, our professional teeth whitening system can brighten your smile by multiple shades in either a single office visit or a couple of weeks with our take-home kits. Keep in mind that your teeth will naturally discolor again over time, so you'll have to factor in the long-term costs of whitening touch-ups.
Invisalign – Straightening crooked, gapped, or crowded teeth with Invisalign is a more sizeable investment of your time and money. However, your newly aligned smile can potentially last a lifetime.
Veneers – Although veneers are far from the cheapest option, they're arguably the most versatile. They can improve the size, shape, color, and basically every other aspect of your teeth in one fell swoop, and with proper care, they can last for 15-20 years or longer.
Cosmetic Dentistry Can Be an Investment Worth Making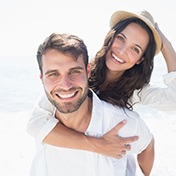 You may be wondering whether it's worth spending money on dental treatments that are only about aesthetics. If you're doubtful, remember that you're investing in yourself! By making over your smile, you can overcome any self-esteem issues you may have previously been facing as a result of imperfect teeth. With your newfound confidence, you'll naturally have a richer social life, and you could even advance in your career. When you look at the big picture, you'll find that cosmetic dentistry is worth the investment.
How to Make Cosmetic Dentistry Affordable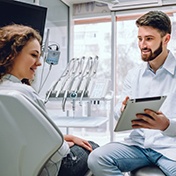 As mentioned above, cosmetic dentistry is unlikely to be eligible for insurance coverage, but that doesn't mean you'll be left completely in the dark. Thanks to our practice's partnership with CareCredit, affording cosmetic dentistry has never been easier. If you qualify for a payment plan from this third-party financier, you'll be able to pay your treatment costs in monthly, easily manageable installments. Even better, most CareCredit plans have extremely low or even zero interest rates!
Cosmetic Dentistry FAQs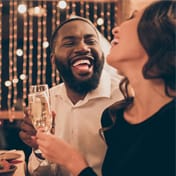 Your cosmetic dentist in Ocala, Dr. Daniel Weldon, has completed additional training to master the art of cosmetic dentistry. He can transform your smile from drab, dull, and damaged to dazzling. The treatments he offers at Weldon Implant and Cosmetic Dentistry of Ocala can boost your confidence by improving the alignment, color, and shape of your teeth. We realize that it can be a difficult decision to invest in your smile, which is why we've compiled several common questions we receive from our patients below. Hopefully, this will give you all the information you need to take the first step towards beautifying your smile by scheduling a consultation.
What are the most common cosmetic procedures that patients get?
At Weldon Implant and Cosmetic Dentistry of Ocala, we offer several in-office treatments that can help you get the smile you've always dreamed of. Depending on your unique needs, we develop a customized treatment plan to transform your grin into a trait that you're proud to show off. Commonly, patients get procedures such as:
Teeth whitening
Porcelain veneers
Invisalign
BOTOX
No matter what areas of your mouth you're looking to improve, we offer several enhancement options that are custom-tailored to meet your needs.
Can my teen get a cosmetic dental treatment?
Some cosmetic dental treatments such as Invisalign are completely suitable for teens. However, it's best to schedule a consultation with their cosmetic dentist before you invest too heavily in the idea. During their initial appointment, Dr. Weldon will inspect their oral health and determine whether or not the procedure they have in mind is safe and can help them achieve the desires they have for their smile.
How long do cosmetic procedures typically take?
The time that it takes to complete a cosmetic procedure heavily depends on the severity of the issues that you'd like to have concealed or fixed. For teeth whitening and direct bonding, you can achieve fast results because they can be completed in a single appointment. However, other procedures such as veneers can take a couple of weeks or longer. You can find out the treatment plan to repair your smile during your initial consultation with Dr. Weldon.
Is cosmetic dentistry the best choice for me?
When you catch a glimpse of your smile in the mirror, do you find the imperfections and small flaws distracting? Does your grin make you self-conscious to talk to new people? If you think your teeth are unattractive or if you're unhappy with your smile, cosmetic dentistry can definitely benefit you. Typically, the best candidates for specific treatments have good oral health. If you have any existing issues like gum disease, they'll need to be treated before your cosmetic procedure can be scheduled.
Will my insurance cover my treatment?
In most cases, dental insurance providers won't contribute to cosmetic procedures. However, there are certain exceptions for service that would also double as restorative treatments and are necessary to maintain your oral health. The best way to know for sure is to contact your insurance company directly.