Invisalign™ Clear Braces – Ocala, FL
Seamlessly Straighten Your Smile
Not everyone is born with a movie star smile. Some people's teeth are simply crooked, rotated, too short, too long, or spaced too far apart. There are many ways to fix these problems, but often, we find that Dr. Weldon can correct them most effectively and efficiently with the help of Invisalign clear braces. To find out how Invisalign in Ocala can help you seamlessly straighten your smile, contact our practice today!
How Invisalign Works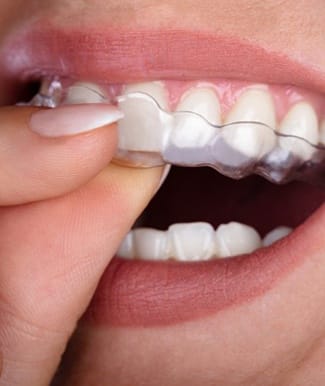 Invisalign uses custom-made aligners that are worn over your teeth. These trays are made of thin, smooth, comfortable, and nearly invisible plastic. The design methodically and gently shifts teeth into proper alignment which is based on the specified movements that Dr. Weldon has determined will correct the teeth. Each set of aligners, which is designed to shift a small portion of your smile, is worn day and night for about two weeks at a time. As your teeth change, you will change to the next pair of Invisalign aligners until your entire smile is perfectly straight.
Problems That Invisalign Can Fix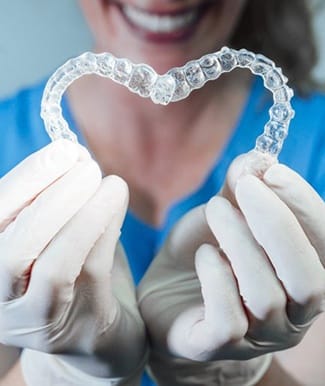 While extreme cases of crooked teeth are often best treated with traditional braces, Invisalign can solve several of the most common orthodontic problems, including:
Crowded Teeth
It can be difficult to effectively brush and floss crowded teeth, increasing your risk of developing cavities and other dental health problems. Invisalign can fix this issue by strategically shifting your pearly whites into their ideal positions.
Gaps Between Teeth
Maybe you aren't a fan of the noticeable spaces between your teeth, but it's more than just an aesthetic problem. Food particles can get trapped in significant gaps between teeth, causing bad breath, plaque buildup, and more. Luckily, Invisalign can often close these gaps to promote better oral health and a more attractive, confident grin!
Bite Alignment
Whether you have a mild overbite, underbite, open bite, or crossbite, Invisalign may be able to help. In many cases, the aligners can bring your upper and lower jaws into proper alignment, preventing the dental problems that often occur as a result of bite misalignment (such as chronic teeth grinding).
The Benefits of Invisalign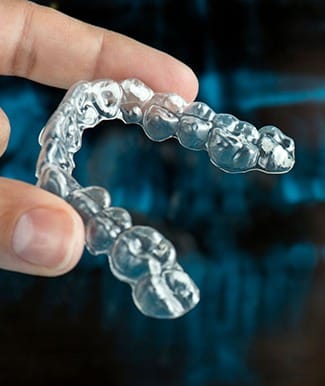 There are other options available to straighten your teeth, but none of those methods offer the level of comfort and esthetics that you can expect with Invisalign. Aside from the obvious visible benefits, here are some advantages of Invisalign over traditional metal braces:
With Invisalign, you can eat whatever foods you like to enjoy and do not have to be concerned with food becoming stuck in braces. You simply remove the trays before eating.
Because you can remove the aligners, you're able to brush and floss as you normally do. This is important because teeth covered in metal braces are more prone to decay and discoloration, much of which is undetectable until the braces come off.
The sharp edges of traditional braces also can irritate the gums, tongue, and cheeks. Invisalign is smooth and avoids these problems.
There are no painful adjustment appointments. You simply visit us every few weeks so that we can evaluate your progress and give you the next few pairs of aligners.
Understanding the Cost of Invisalign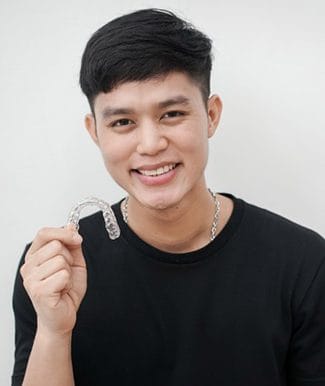 Because every person's smile is unique, there is no one-size-fits-all cost for Invisalign clear braces. Each patient's Invisalign aligners are custom designed to fit their teeth and apply the exact amount of pressure needed to slowly straighten their smile. The final cost of your Invisalign will be influenced by a number of factors. Regardless of its price, our team will help you explore your payment options so you can make a confident decision about whether Invisalign is a fit for your budget.
Factors that Affect the Cost of Invisalign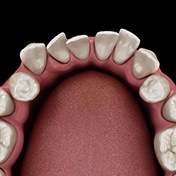 A couple of the primary factors that may affect the cost of Invisalign in Ocala include:
Invisalign VS SmileDirectClub™: Which Costs More?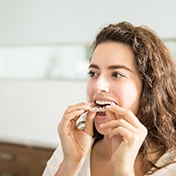 SmileDirectClub™ and similar DIY orthodontic systems have become popular in recent years, mostly because of their low price. They might cost around $2,000, while Invisalign can run anywhere from $3,000 to $8,000. While that is a significant price difference, there is also a significant difference in what you are paying for.
With Invisalign in Ocala, you are paying for a tried-and-true system that uses patented aligner materials and state-of-the-art technology. You have the support of an experienced dentist every step of the way, and good results are almost guaranteed. Conversely, DIY systems often use basic plastic for their aligners, and you usually have to take your own dental impressions. There is a much larger margin for error, and you don't have personalized professional help from a local dental team. If something goes wrong with your treatment, it may cost thousands of dollars to correct the problem.
Does Dental Insurance Cover Invisalign?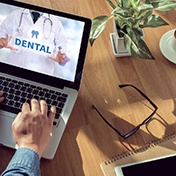 Dental insurance policies vary widely in their approach to Invisalign. Most that cover orthodontics do apply to Invisalign. Your plan might cover half the cost of your treatment, up to the amount of your lifetime orthodontic maximum. Our team will use our insurance expertise to help you figure out whether you can use your policy for Invisalign. We will also file paperwork on your behalf and strive to help you find answers to all of your insurance questions.
Options for Making Invisalign Affordable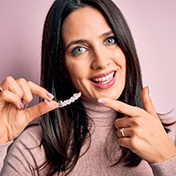 We would like to help you afford Invisalign! That is why, in addition to helping you navigate your insurance, we are also pleased to accept payment from CareCredit. CareCredit is a third-party lender that offers no-interest and low-interest payment plans for medical and dental services. Most patients qualify for it, and you may be able to choose from a variety of plans.
Our team is ready to help you achieve the straight, healthy smile you deserve! We understand that our patients are concerned about the financial aspects of care, and we will do everything we can to help you fit your treatment into your budget.
Invisalign FAQs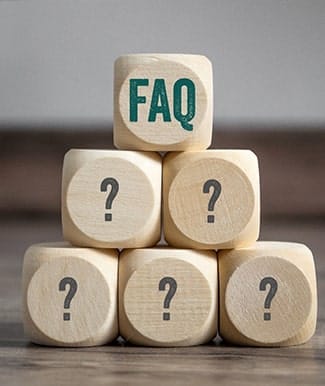 Do you want to know more about Invisalign clear braces? Keep on reading! Our knowledgeable staff at Weldon Implant and Cosmetic Dentistry of Ocala has collected some of the most common questions and answers about Invisalign treatment in the handy FAQ section below. Once you have all the facts about this modern alternative to traditional metal braces, you will be ready to schedule an initial consultation with your dentist in Ocala, Dr. Daniel Weldon. Don't see your specific concern addressed here? Ask Dr. Weldon directly!
How Long Does Invisalign Treatment Take?
The length of Invisalign treatment for your unique smile will depend on a number of factors, including whether you are seeking to address a bite issue or fix a more cosmetic concern like a gap in between your front teeth. In general, most individuals who wear Invisalign clear braces achieve their goal of a straighter smile in just 12 to 18 months! Traditional orthodontic treatment, on the other hand, can often take up to two years or longer. This is just one reason why so many patients are opting for Invisalign in Ocala over metal braces.
How Often Do I Have to Wear My Invisalign Trays?
In order to complete your personalized Invisalign treatment plan on time, it is very important that you wear your aligners for 20 to 22 hours each day. Basically, anytime you are not eating a meal or brushing your teeth, you should have your aligners in place. If you do not wear your Invisalign trays as directed by Dr. Weldon, your teeth will try to shift back to their original positions and your treatment will be delayed.
How Do I Clean My Invisalign Aligners?
Cleaning your Invisalign aligners on a daily basis is critical to preventing plaque and bacteria from building up and potentially harming your teeth. As a best practice, try to clean your aligners every time you brush your teeth – which should be at least twice a day. Here are some Invisalign care tips:
Hold the aligners in your hand and brush them gently using a soft-bristled toothbrush.
Toothpaste can sometimes scratch the plastic, so stick to soap and lukewarm water.
Avoid placing your aligners under hot water, as this can permanently warp the plastic.
Rinse your aligners with lukewarm water before putting them back into your mouth.
Does My Dental Insurance Cover Invisalign?
Your dental insurance coverage will also have a big influence on the out-of-pocket costs of Invisalign treatment. Many dental insurance plans that cover traditional metal braces also provide coverage for Invisalign. However, every plan is different, so it is important that you double check before committing to Invisalign treatment. If you would like help understanding the particulars of your dental insurance plan, do not hesitate to ask us for assistance! Our experienced staff will be glad to review your insurance coverage and help you maximize your benefits.
Does Invisalign Hurt?
Hands down, one of the most asked questions we get from patients is, "Does Invisalign hurt?" To be honest, some soreness is to be expected, especially when you first start your clear aligner treatment. There is a silver lining though: that means your teeth are moving! Of course, our Ocala dental team will also share our tips and tricks for alleviating any discomfort that does arise, including switching to each new set of trays directly before bed and avoiding hard, crunchy, and sticky foods temporarily.
Is Invisalign Cheaper than Braces?
Since traditional braces and Invisalign are both sought-after, reliable, and effective orthodontic treatments, you might assume that comparing the cost is easy. However, both teeth-straightening services are completely tailored to each patient's needs, so there isn't a flat fee to compare. Ultimately, the cost of your Invisalign treatment will depend on important factors like the severity of your misalignment and how well you follow the guidelines, like wearing your aligners for 20+ hours a day.
Can You Eat with Invisalign?
It's important to remember that while there aren't any dietary restrictions, you can't eat with your aligners in. In other words, you can continue your usual diet as long as you remove your trays first. If you don't, then they will break under the pressure, bringing your treatment plan to an immediate stop.
We also need to mention the importance of eating a well-balanced diet to help keep your teeth and gums healthy. If tooth decay, gum disease, or any other oral health issues develop, then that also has the potential to add weeks or months onto the backend of your treatment. As always, if you have any questions about life with braces, including how to navigate mealtimes, don't hesitate to ask our team.
Does Invisalign Give You a Lisp?
The short answer is "no." Basically, your tongue makes a series of precise movements against the back of your teeth to create distinct sounds. So, at the beginning of their clear aligner treatment, some patients experience slight changes to their speaking patterns as their tongue adjusts. If this happens to you, you can rest assured that it's completely temporary; you won't have a lisp because of your Invisalign treatment. Plus, there are several ways you can help your tongue adjust, like reading out loud.
What Happens After Invisalign?
Once your teeth are properly aligned, our focus transitions to keeping them there. After all, roughly 50% of patients experience orthodontic relapse, which is when your teeth begin to move back into their misaligned positions. For that reason, we will provide you with a custom-made retainer at the end of your treatment. Sometimes, we ask patients to wear it around the clock for the first few months. Other times, patients are asked to wear it only at night. Ultimately, our recommendation will depend on your specific dental needs.