Dental Bridges – Ocala, FL
Seamlessly Replace One or More Missing Teeth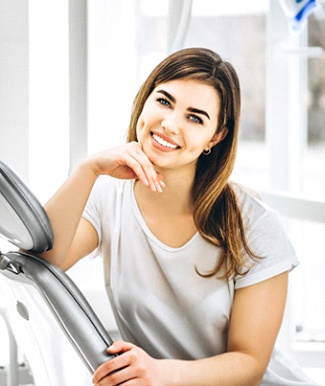 If you're missing a tooth or two, you're certainly not alone. The American College of Prosthodontists reports that approximately 178 million Americans are missing at least one tooth. Whether your tooth loss occurred due to decay, gum disease, or trauma, those gaps in your smile can present problems for your appearance, health, and quality of life. Thankfully, at Weldon Implant & Cosmetic Dentistry of Ocala, we can seamlessly replace one or more missing teeth in a row with a beautiful, customized dental bridge! These strong and lifelike restorations are one of the most popular ways to regain a complete smile quickly and easily. Read on to learn more and give us a call to schedule your next appointment!
What Is a Dental Bridge?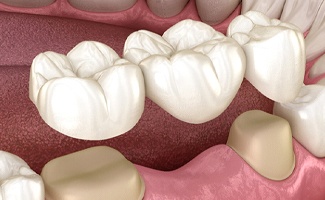 Dental bridges in Ocala are custom-made prosthetics that are carefully designed to fit in in the spaces left behind by missing teeth. On each end is a dental crown that fits over the remaining teeth on either side of the gap in your smile. One, two, or three replacement teeth are securely supported between them to form a single unit, effectively bridging the empty space. Bridges are made of a material called dental porcelain, which can be color-matched to your natural teeth for truly seamless results. Dental porcelain is also incredibly durable and stain-resistant, giving you results you can count on.
Types of Dental Bridges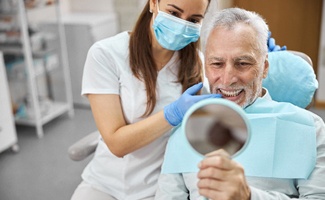 When you come visit Dr. Daniel or Elizabeth Weldon for a consultation, we'll discuss your smile goals with you and examine your mouth. Most adults with healthy teeth and gums make great candidates for dental bridges. Based on our findings during this appointment, we'll fully explain your dental bridge options and which one we recommend for your unique smile.
Traditional Dental Bridges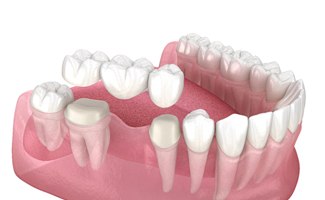 A traditional dental bridge is a series of custom dental crowns that have been bonded together to form a single prosthetic. The crowns on each end are placed over the healthy remaining teeth that neighbor the missing tooth. Traditional dental bridges are the more cost-effective, faster, and less invasive type of bridge. However, they will need to be replaced every 10-15 years and require that the adjacent teeth be slightly altered.
Implant Bridges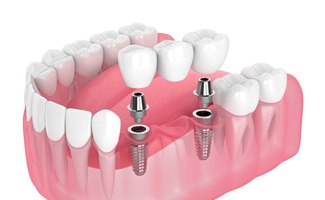 Alternatively, a dental bridge can be paired with state-of-the-art dental implants. Implant bridges look just like traditional bridges, however, instead of relying on the remaining teeth for support, implant bridges are anchored in place by two dental implants. These small metal posts are inserted directly into the jawbone to replace the missing root structure and provide unmatched stability. While this option typically requires more time, money, and effort, the results can easily last a lifetime and offer a myriad of health benefits that can't be obtained with a traditional bridge.
The Benefits of Getting a Dental Bridge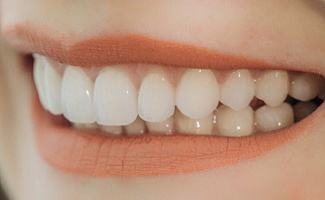 Replacing your missing teeth benefits far more than just the appearance of your smile. When you replace one or more missing teeth with a dental bridge, you also:
Prevent dental drift, which in turn prevents crooked teeth and a misaligned bite.
Improve your ability to eat many of your favorite foods once again
Provide support for your facial muscles, giving you a more filled-out appearance
Encourage better oral health and a reduced risk of cavities and gum disease
Regain confidence in your smile and yourself
Dental Bridges FAQs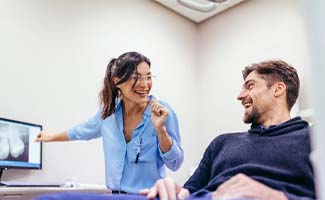 Tooth loss can affect more than just your appearance – it can impact your overall quality of life as well. Fortunately, you no longer have to live with gaps in your smile. At Weldon Implant & Cosmetic Dentistry of Ocala , we offer dental bridges to replace your missing teeth. Even though it's a trusted tooth-replacement solution, it's completely normal to have a few concerns before committing to it. Below, we've decided to answer some frequently asked questions we receive from patients about dental bridges in Ocala.
Can You Take a Dental Bridge Out?
No! Dental bridges are designed to stay in your mouth for years after they've been placed. Therefore, you shouldn't be able to take the restoration out by yourself – only a dental professional can do that. You may have heard partial dentures referred to as "removable bridges", but that's not accurate. One of the most notable differences between partials and bridges is that partials can be removed at any time while bridges cannot.
Is Getting a Dental Bridge Painful?
Before your procedure, we'll numb your teeth with a topical anesthetic to ensure you're completely comfortable. After your teeth are prepared to support a dental bridge, they may feel slightly sensitive for the next few days. The good news is that you can easily manage your discomfort by taking over-the-counter pain medication as needed. If you're receiving an implant bridge, you may experience mild soreness after your oral surgery. However, diligently following your aftercare instructions will help keep your pain to a minimum.
How Long Should a Dental Bridge Last?
Most people can expect their dental bridge to last anywhere between five to 15 years. Of course, the exact amount of time will vary significantly from patient to patient depending on several factors, including:
Metal dental bridges typically last longer than metal-free ones. However, the difference is often negligible.
Bridges that replace the front teeth generally last longer than those toward the back of the mouth because they don't experience as much wear and tear from chewing.
Individual factors. Your diet, oral hygiene, and personal habits can influence the longevity of your restoration.
Type of dental bridge. Implant bridges usually last longer than traditional ones. Even though the restoration itself will need to be replaced eventually, the titanium posts can last several decades with proper care and maintenance.
Do Dental Bridges Look Natural?
Dental bridges made from natural-looking materials (i.e., porcelain, ceramic, zirconia) can be color-matched to your teeth. Since these materials closely mimic tooth enamel, your restoration should blend seamlessly with your remaining teeth. Once in place, no one will even notice you have dental work in your mouth!