Dentures – Ocala, FL
If you've experienced significant tooth loss in the upper or lower arch, dentures in Ocala are an effective solution to rebuild a functional smile. Dr. Daniel Weldon is highly qualified to evaluate any remaining teeth, your gums, and bone to provide a denture that closely looks and feels realistic. He'll determine which prosthetic will best meet your needs and expectations to restore a beautiful, complete smile.
Types of Dentures
Dentures are one of several treatment methods for the replacement of missing teeth in Ocala. There are three options to resolve extensive tooth loss:
Partial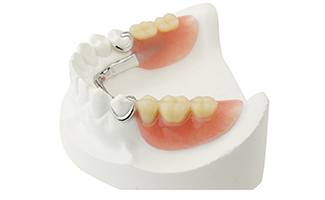 If you still have a few healthy teeth, a partial denture closes the gaps. Prosthetic teeth are affixed in a gum-colored base that has a metal framework, which clips onto your remaining teeth to hold it in place. The crowns used to fill the spaces are carefully crafted to match the appearance of your real teeth to blend in when you smile.
Complete Denture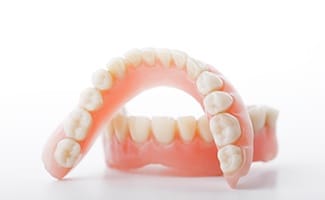 A full denture replicates all the teeth in one or both arches using a device that rests on top of your gum tissue. It's constructed of an acrylic gum-colored base attached to either porcelain or acrylic teeth. It's held in place using suction or an adhesive. Although they have a bad reputation for looking and feeling fake, new advancements in dentistry have improved their aesthetics and fit.
Implant-Retained Denture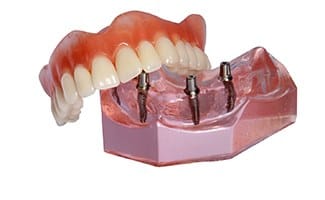 Strategically placed dental implants anchor your denture to your jawbone. You'll enjoy a nearly perfect replica of your natural smile using a treatment that's proven to last for decades with the right aftercare. You'll never need to worry about any slipping or irritation because the dental implants hold your denture in place. You can regain as much as 70% of your natural biting force to enjoy your favorite foods again.
Cost of Dentures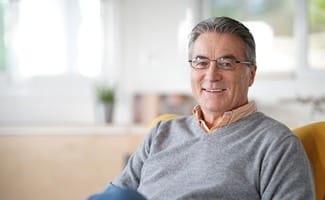 Do you know how much you'll end up paying for dentures? The exact amount will vary somewhat from person to person, but we'll be here to go over the different factors with you, come up with an estimate for how much you'll need to pay, and discuss how you can manage and mitigate your out-of-pocket costs. Below are some of the basics that you'll need to understand if you're planning on paying for dentures.
Factors That Affect the Cost of Dentures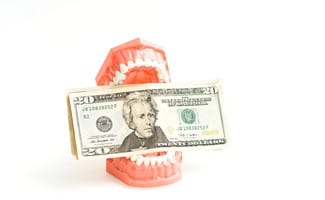 Some people need to have certain procedures performed before they can even get dentures. For example, any teeth that haven't already fallen out or been removed have to be extracted. Such procedures carry their own costs.
Then, when the time comes to pay for the dentures themselves, the type of material used to make the base (the part colored to resemble the gums) and the replacement teeth tends to greatly influence the price. Acrylic is most commonly used for the base, and porcelain is often the material used for the teeth. Remember, it's always better to pay a little extra for better quality materials since they'll last longer and give you a more comfortable, lifelike smile.
Are Implant Dentures More Expensive?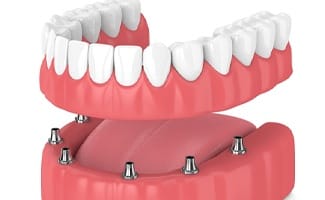 In short: yes, implant dentures do cost more, but the benefits are well worth it. Because the dentures are attached to implants that are themselves anchored to the jawbone, your new smile will be permanently fixed in place, and it will look and feel like a natural part of your mouth. It will also provide the strength needed for a full, nutritious diet. And while regular dentures have to be replaced every 5 to 7 years on average due to the changing shape of the mouth and simple wear and tear, dental implants are more durable and help keep the jaw in shape, meaning they ultimately last a lot longer.
Does Dental Insurance Cover Dentures?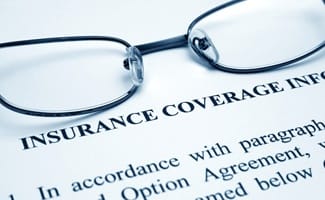 Every dental insurance plan is different and offers coverage at various rates, so you should never take anything as a given until you've gotten in touch with your insurance provider to confirm the specifics. (We can review your coverage with you once we've received your policy information.) Dentures are likely to be covered most of the time and are generally classified as a "major" procedure. As such, many plans will pay around half the cost of dentures.
Other Options for Making Dentures Affordable
Paying for new teeth to regain a full smile should be as convenient as possible, which is why we accept various insurance plans and offer different forms of payment (including cash, checks, and several major credit cards). We also offer financing through CareCredit. You can sign up for a payment plan and break up the cost of your dentures (and associated procedures) into monthly chunks. Please contact us if you have any questions about CareCredit or any of your other payment options; our team is looking forward to assisting you and making your experience just a little more convenient.
Caring for Your New Dentures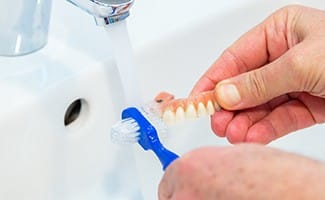 Dentures require care for many reasons, like ensuing their longevity. They need to be brushed each day using a soft-bristled toothbrush to remove food particles, plaque, and stains. Your dentures can lose their designed shape if they aren't kept moist. To prevent them from warping, they should be stored in a soaking solution overnight.
If you would like to discuss your options for tooth replacement, we can help. Contact our office today to schedule your consultation for dentures. We'll recreate the healthy, beautiful smile you deserve.
Dentures FAQs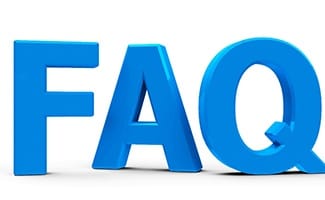 Are you still unsure whether you could benefit from replacing your missing teeth with dentures in Ocala? It's perfectly normal to still have some concerns about the treatment. To help you feel confident in your decision, here are the answers to a few of the most common questions patients ask us about dentures.
Can I Sleep in My Dentures?
Although it's definitely possible to wear them while you're in bed, we recommend taking them out before going to sleep. Keeping your dentures in place all day can be exhausting for your jawbone and gum tissue. Nighttime is perfect for letting them rest.
When you remove your dentures, be sure to soak them in a denture cleansing solution or room-temperature water to clean them. Letting them dry out can cause their shape to change, but so could soaking them in hot water.
Does it Hurt to Get Dentures?
When you first begin wearing your dentures, you might experience some minor irritation or soreness in your gums. It's normal, and you should gradually feel more comfortable as your mouth gets used to wearing them. In most cases, you shouldn't feel any pain after a few days.
Do I Still Need Dental Checkups?
It's a common misconception that you won't need any checkups with your dentist because you've lost all your natural teeth, but this couldn't be further from the truth. We suggest you still visit our office every 6 months, so our team can examine your mouth for any issues, like gum disease or oral cancer. We can also clean and adjust your dentures to ensure they look and feel their best.
How Do I Know When My Dentures Need to Be Relined?
If your dentures are slipping around in your mouth, or they don't fit as snugly as they did, it might be time to have them relined. This is a procedure that adjusts the base of your dentures to improve their fit, which is necessary as your gum tissue and jawbone shrink. It helps ensure the longevity of your denture, so it doesn't need to be replaced as often. Don't attempt to reline them with an over-the-counter kit or you can cause permanent damage. A dental professional will ensure your dentures fit like a glove again.