Emergency Dentist – Ocala, FL
When the Unexpected Happens, We're Here for You!
Toothaches and dental injuries are not going to wait until it's convenient for you. They'll strike unannounced, often putting you through pain or causing physical issues that are too severe to ignore. Instead of calling the emergency room and waiting hours for treatment, call Dr. Weldon right away. As an emergency dentist in Ocala, he can see you on the same day as needed so that you can get the care you need without the wait.
How to Handle Dental Emergencies
Once you get in touch with your emergency dental office in Ocala and set up an appointment, you can focus on giving yourself first aid and finding temporary relief. A dental emergency might refer to anything from a tooth infection to physical trauma, so it is important to know how to deal with different situations and treat yourself accordingly. Some vital tips for dealing with some of the most common dental emergencies are listed below.
Toothaches
Whether your toothache is minor or severe, ibuprofen and other store-bought medications can help. Check to see if there's swelling around the gums; applying a cold compress to the area for a set amount of time can lessen it. You should also use dental floss to clean between the teeth and rule out whether the pain is caused by lodged food particles.
Chipped/Broken Teeth
First, clean out the mouth by rinsing with warm water. Look for large pieces of the tooth so that you can bring them to your appointment. Place a piece of sugarless gum or dental wax over any sharp or rough edges of the tooth that could leave scratches on the lips or the gums.
Knocked-Out Tooth
The window to try and replant a tooth is only around an hour, so call our office immediately. When you pick up the tooth, only touch the part that normally sticks out over the gums. Gently rinse it off before putting it back in its socket. Other options for preserving it include keeping it in your cheek or placing it in a container of milk; whatever you do, make sure it stays moist.
Lost Filling/Crown
It's not unusual for an older filling or crown to eventually fall out. Until you can receive a new one, you can try and reattach it with a dab of toothpaste or sugarless gum. Do not use the affected tooth to chew, and take over-the-counter pain mediation if you notice that it has become sensitive.
How to Prevent Emergencies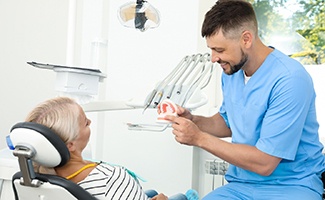 To prevent plaque buildup from leading to tooth decay and gum disease, you need to brush and floss every day.
Biting down on ice and pen tips can crack the teeth. Be wary about putting anything too hard in your mouth.
Grab the scissors whenever you want to open a particularly stubborn package; do not use your teeth.
Get an athletic mouthguard so that you can enjoy playing your favorite sport without worrying about sudden impacts.
Understanding the Cost of Emergency Dentistry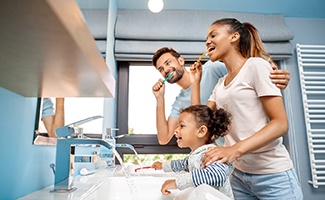 The final cost of your emergency dentistry in Ocala will depend not just on what the issue is but also how severe it is. No matter what, we'll focus on stopping your pain first, then work on reversing the damage. Once an estimate has been made, we can discuss how insurance and financing can help with the out-of-pocket costs.
Every Dental Emergency Is Different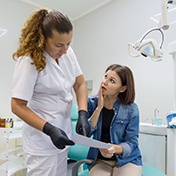 An emergency dental exam is relatively inexpensive, but the cost of treating various ailments can vary greatly. After our team examines your mouth, we will provide you with a customized estimate for your recommended services and help you understand your payment options. Some treatments that we often use as an emergency dentist in Ocala include:
Root canal therapy to treat damaged and infected teeth
Fillings to address mild to moderate tooth decay
Extractions to remove teeth that cannot be preserved with restorative services
Dental crowns to protect weakened or damaged teeth
Dental bonding to repair chips and cracks
Taking Care of Your Smile Can Save You Money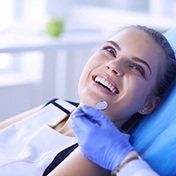 Some dental emergencies are unavoidable, but most can be prevented by taking a few simple measures. For example, attending routine dental appointments twice a year gives us the opportunity to catch issues before they become severe and lead to the need for urgent treatment. Regular checkups are quite affordable, especially if you have insurance.
It is also important that you monitor your oral health and seek help at the first sign of a problem. For example, a little twinge in your tooth might indicate a cavity, which may be treatable with a small filling. A filling is relatively inexpensive. However, if you delay treatment and the cavity worsens, you may end up needing root canal therapy and a crown, which cost significantly more.
Does Dental Insurance Cover Dental Emergencies?
Many dental plans cover at least one emergency exam each year, and most policies provide 50 – 80% coverage of restorative services, up to the amount of the policy's annual maximum. However, it's important to remember that every plan is different. Our team will help you file all the necessary paperwork to make sure you can maximize your insurance benefits. You'll pay for your treatment upfront, but your insurance may reimburse you later.
Other Options for Making Dental Emergencies Affordable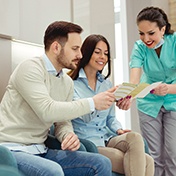 In addition to helping you navigate the ins and outs of insurance, we are also pleased to accept payment from CareCredit. CareCredit is a third-party lender that offers low-interest and no-interest payment plans for dental services. Most patients qualify for this type of financing, and you may be able to choose from a variety of different plans, according to your monthly budget and personal preferences.
We want to help you end your pain and get your oral health back on track! Please don't let financial concerns hold you back from seeking the treatment your smile needs. Our team is here to help you figure out a way to afford the high-quality care that we provide.
Emergency Dentistry FAQs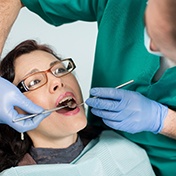 Dental emergencies are some of the most stressful situations that can arise. Not only are they usually unexpected, but many people don't know how to handle these situations, which generally creates even more panic. There's no need to worry; your emergency dentist in Ocala has taken the time to answer some of the questions we get asked the most frequently about emergency dentistry. To help ease your mind, you can read through this list while you wait for your emergency appointment.
My Toothache Went Away. Do I Still Need Dental Care?
While it might not seem like a big deal, the fact of the matter is any kind of toothache needs to be evaluated, even one that eventually subsides. Pain is your body's way of telling you that something is wrong. Ignoring the problem could actually make it worse in the long run.
In some cases, a toothache that goes away could be a sign that an infection has reached the nerve in the center of the tooth, damaging the nerve so badly that it's no longer capable of sending pain signals to the brain. If this is the case, you'll need prompt treatment if you want to save your tooth from needing an extraction.
Whatever the cause of your toothache, we'll diagnose it as soon as we can and develop a personalized treatment plan to get your oral health back on track.
How Should I Remove an Object Stuck in My Teeth?
Let half a teaspoon of salt dissolve in an eight-ounce glass of lukewarm water and swish that solution around in your mouth. If that doesn't dislodge the object, gently floss between your teeth. Whatever you do, do not use a sharp object like a toothpick. You could accidentally slip and scratch your tooth or pierce your gums or tongue.
If you've tried these methods and still can't remove the object, give us a call and we'll be happy to help.
How Can I Prepare for a Dental Emergency?
Since dental emergencies can't always be prevented, the best way to be prepared is to make an emergency kit that can be stored at home, in your purse or car, or even your desk at work. Include the following items:
Our contact information
Saline solution
Small container with a secure lid
Bottle of acetaminophen
Waxed floss
Latex-free gloves
Dental wax and dental cement from the drugstore
A clean handkerchief or bandana
I'm Busy. Can I Wait to Receive Emergency Care?
While some medical conditions like the common cold get better on their own, the same can't be said for dental problems. In fact, they typically worsen the longer you ignore them. Waiting too long to see your dentist in Ocala, especially if you've knocked out a tooth, could mean the difference between saving and losing your tooth! Because of this, you should call us at the first sign of an oral health problem, even if you think it's no big deal. When it comes to your dental health, it's much better to be safe than sorry.