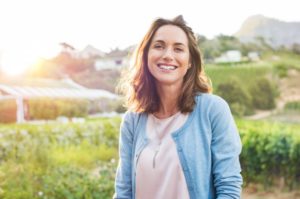 Are you on the hunt for the best solution for tooth loss? While dental implants have the higher up-front cost compared to traditional prosthetics, countless patients who have invested in this procedure would tell you that they were well worth the investment. Because dental implants boast a variety of benefits that set them apart from other tooth loss treatments, comparing their prices would be like comparing apples and oranges. Read on to learn four factors that make dental implants well worth their price tag.
They Restore Bite Power by Up to 80%
While traditional restorations can improve your eating and speaking abilities, they still don't offer that natural feel whenever you chew food. In fact, patients who have full dentures often have to give up some of their favorite foods that may be too hard to chew, like crusty breads and chewy meats. Because dental implants are anchored to the jawbone, making the prosthetics attached to them strong and unwavering, they're able to restore your natural bite power by up to 80%. This means you won't have to give up your favorite foods in order to accommodate your prosthetic!
They Look & Feel Completely Natural
One of the most valuable and unique benefits of dental implants is that they restore the entire structure of missing teeth from the roots upward. This not only makes the prosthetic look completely natural, even around your home-grown teeth, but it also allows them to feel like your natural teeth. Implant dentures, bridges, and crowns can provide a huge confidence boost that can encourage you to show off your smile more.
They Stop Jawbone Erosion
Once teeth go missing, their roots are no longer providing blood flow and stimulation to the jawbone. Over time, this leads to bone erosion that can cause your facial structure to change and impact the alignment and health of any existing natural teeth. Dental implants are the only tooth loss solution that's able to offer this benefit because traditional prosthetics only restore the visible dental structure.
They Can Last for Up to 35 Years
Dental implants are made from titanium, which is a biocompatible material that's able to naturally fuse with the jawbone through a process called osseointegration. Not only does this allow them to prevent jawbone erosion, mentioned above, but it's also what allows them to last so long. Studies have shown that with the proper care, implant dentures, bridges, and crowns can last for 35 or more years. So, despite their higher up-front cost, they can actually help you save money in the long run by leading to fewer prosthetic replacements and visits to your dentist.
Investing in replacement teeth that mesh with your daily lifestyle and can provide both functional and aesthetic benefits can truly be life changing. That's why so many patients who received dental implants will tell you that the higher up-front cost is worth it!
About the Author
Dr. Daniel Weldon has over a decade of experience practicing dentistry under his belt. He's passionate about helping his patients get the most out of their smile, which is why he offers modern tooth replacement treatments like dental implants. He has also completed additional training in implant dentistry, allowing him to complete the entire process under one roof. For questions or to schedule a consultation, visit Weldon Implant and Cosmetic Dentistry of Ocala's website or call 352-622-3236.