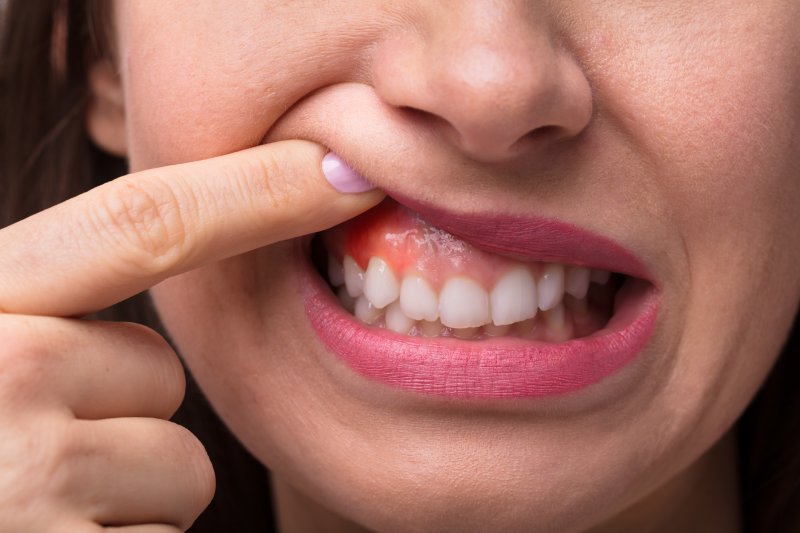 When you brush and floss before bed, don't forget to check your gums. How do they look? Do they appear redder and more swollen than normal? If so, there's a good chance that you have gum disease or could develop gum disease soon; if left untreated, this condition could cost you your teeth and put you at risk for a heart attack. Here are 4 possible causes for swollen gums – as well as what to do about them.
1. Gingivitis
Gingivitis is the first stage of gum disease; it occurs when the bacteria and plaque near your gum line cause the soft tissues to become swollen and irritated. Your gums will tend to bleed easily whenever you brush, floss or bite down on something hard. While gingivitis can be easily treated and might even be reversed by good oral health habits, if it's left alone it'll become periodontitis, the advanced form of gum disease that can lead to tooth loss. You should contact your dentist right away if you think you might have gingivitis.
2. Pregnancy
Pregnancy can cause a lot of changes in your body. Notably, it can increase the flow of blood to your gums, causing them to swell. You need to take especially good care of your mouth during this time; the hormone changes will hurt the body's ability to fight against bacteria. This can make the development of gingivitis more likely.
3. Infection
Gum disease isn't the only kind of infection that can make your gums swell. Herpes, thrush and tooth decay can also have an effect on your gums. It's important to have your gums checked as soon as you start seeing troublesome symptoms so that they can be accurately diagnosed.
4. Vitamin Deficiency
Vitamin C (which is found in citrus fruits, tomatoes, broccoli, sprouts and berries) is important for keeping your mouth healthy; without it, you could easily develop gum disease.
What Can You Do If Your Gums are Swollen?
After having your gums checked and treated by your dentist, there are a few things you can do to treat your swollen gums at home. For example:
Brush and floss on a regular basis, but be gentle; you don't want to irritate the gums further.
Rinse with saltwater. (This makes it harder for bacteria to thrive in your mouth.)
Do not use alcohol or tobacco. Alcohol irritates your gums and tobacco stops them from healing properly.
Drink plenty of water to increase saliva flow to wash away bacteria.
Never let irritated gums go untreated. If you're not sure what to do, call your dentist. They can help you prevent further damage and ensure that your grin stays healthy and intact!
About the Author
Dr. Daniel Weldon is a member of the Florida Dental Association and volunteers at the Marion County Health Department, performing dental work for the less fortunate. He's trained in all aspects of general dentistry and can help treat aggressive forms of gum disease. If you have swollen gums and want to schedule an appointment at his Ocala practice, Weldon General and Cosmetic Dentistry, visit his website or call (352) 622-3236.