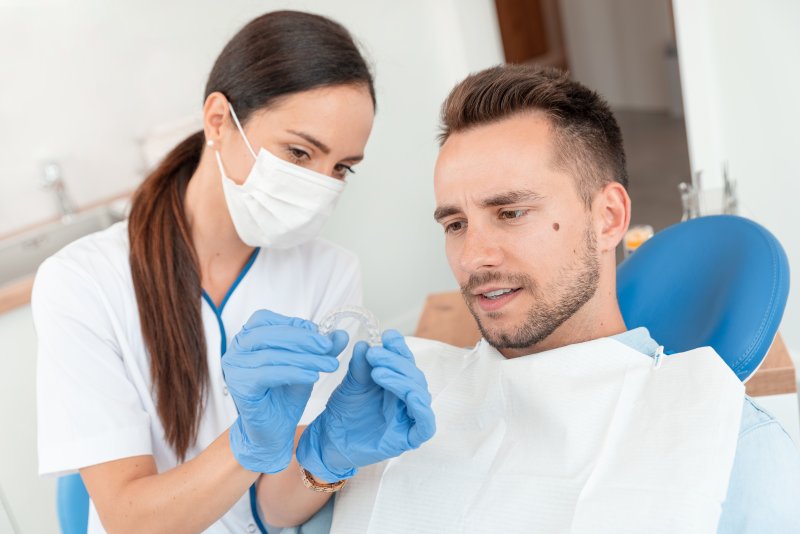 You might believe there's nothing you can or should do to help the Invisalign process. In this view, you only need to attend appointments and wear the trays long enough. Beyond that, all is well.
However, the truth is that there are ways you could speed things up. Are you interested in how to prepare for Invisalign with Ocala dentists? Then practice the four tips listed below!
Avoid Snacking
You should go ahead and break your tendency toward snacking. You need to wear Invisalign trays need for 22 hours daily, so you wouldn't leave much time to graze anyway.
To better resist the urge, fill your breakfasts, lunches, and dinners with more nutrient-dense foods. Items high in healthy fats, lean proteins, and complex carbohydrates are healthier and more filling. Making the shift now would also let you find good recipes by the time your aligners are ready.
Brush Your Teeth After Each Meal
If you weren't doing it already, brush your teeth after each meal. This routine is essential during Invisalign treatment since food particles will otherwise get caught in your trays.
Start forming this habit early so you'll always know what to do when eating out. That way, your treatment experience will be more seamless. Plus, your food-free aligners will be more comfortable to wear.
Put Together a Dental Kit
Always have a dental kit on hand to make your after-meal brushing more convenient and accessible. You would want to include items like a soft-bristled toothbrush, fluoridated toothpaste, pre-threaded floss, and mini mouthwash. Make the kit travel-ready by organizing said tools so you can carry them in a small pack.
Figure Out the Financials
Before you're asked to pay, get a handle on the costs and benefits of your Invisalign procedure. For instance, understand the coverage and co-pays for your dental insurance. You could also look into whether your local dental practice has special offers for Invisalign patients.
Next, look into payment plans that work for you and your dentist. Does the office need the total cost upfront? Can you space things out with flexible financing?
It might seem like Invisalign does all the work, but your actions influence your trays' effectiveness. Ensure that your straighter smile comes sooner rather than later using this article's suggestions!
About the Practice
Weldon General & Cosmetic is based in Ocala, FL. Headed by Dr. Daniel Weldon, a graduate of the University of Florida's College of Dentistry, their team specializes in comprehensive family and cosmetic dentistry. They thus dedicate themselves to helping the Ocala community by offering the healthiest, whitest smiles possible. Furthermore, they have a variety of payment options available. For more information or to book an appointment, they can be reached at their website or by phone at (352)-622-3236.