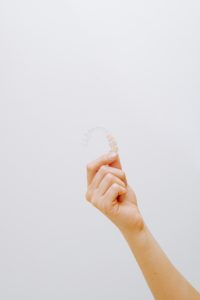 Summer is here, which means spending plenty of time outdoors soaking up the sunshine. Take a break from the warm weather to visit your cosmetic dentist for Invisalign. There's no better time than the present to start your journey to a straight smile with clear aligners. Here are 5 reasons to invest in Invisalign this summer.
1. More Flexibility in Your Schedule
Life gets a little slower during the summer. You'll have more time in your day to visit your dentist. You'll need an initial consultation to ensure you're a candidate for Invisalign. Based on the results of your examination, your dentist may recommend a little prep work, like a cleaning. It can take a couple of appointments before you'll get your aligners, but you'll have the flexibility you need to ensure there aren't any unnecessary delays in the process.
2. You'll Have Time to Adjust
It can take a few days to adjust to wearing your aligners. If you have been saving your vacation days, you'll have plenty of time to sit back and relax while adapting to the changes. You won't have to worry about running back to the office or have anxiety about the way you sound when speaking. You'll have a few days to practice talking and get used to your aligners. You will soon forget you're even wearing them.
3. It's Never Too Late to Invest in a Straight Smile
Misaligned teeth are more than an aesthetic issue. They can affect your oral health, increasing your risk of cavities, gum disease, and dental emergencies. Fixing your bite and alignment improves your oral health to preserve your natural smile. Not to mention, you'll be less likely to need costly procedures down the road to lower your overall oral health expenses.
4. Boost Your Confidence
If you are unhappy with the way your teeth look, you probably don't like smiling in certain situations. You don't have to worry about any unwanted attention brought to your smile when wearing Invisalign because clear aligners are discreet. As your teeth move into position, your confidence will increase because you'll look your best.
5. Improve Your Professional Image
A pleasing smile is attributed to youth, confidence, and success. You can improve your professional image with straight teeth. Fixing your teeth may lead to new career opportunities because people may view you in a new light.
If you've been waiting for a perfect time to get Invisalign, don't let another summer go by before investing in the smile of your dreams.
About Dr. Daniel Weldon
Dr. Weldon obtained his dental degree from the University of Florida College of Dentistry and has regularly continued his education in many specialties, including cosmetic dentistry, oral surgery, and dental implants. He strives to help each patient achieve their best smile using the latest innovations in dentistry. Request an appointment online or call (352) 509-5761 to see if Invisalign is right for you.