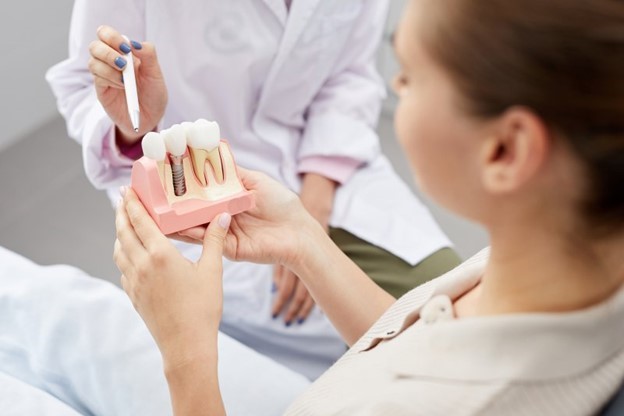 Though there is a range of ways to replace missing teeth, dental implants are the option of choice for many dentists and patients alike. These titanium screws offer a long-lasting solution that gives you a gorgeous, healthy, and lifelike grin. Implants can even last a lifetime with proper care, which includes brushing, flossing, a healthy diet, avoiding bad habits, and biannual dental visits. If you're considering this treatment, you may be wondering if it's a safe option for you. Keep reading to learn if dental implants are safe and things that could compromise them.
Are Dental Implants Safe?
The short answer is yes! Though the implant process might feel a bit daunting, this procedure has a 95% success rate and is performed by dentists and oral surgeons who have undergone countless hours of training.
Even so, it's important that your oral health is in good condition before you move forward with the procedure. Gum disease and other oral health conditions can lead to complications during implant placement. Additionally, if your jawbone isn't dense enough to support implants, you may need to get a bone graft before proceeding.
It's also worth noting that all oral surgeries come with a small risk of bleeding disorders, infections, and allergic reactions. Your dentist or oral surgeon and their team will take the necessary precautions beforehand in an effort to ensure your safety and comfort throughout treatment.
5 Things That May Compromise Your Dental Implants
As successful as implants are, there is still a possibility that issues may arise. Some things that may cause implant failure include:
Autoimmune diseases – This includes diabetes and rheumatoid arthritis, which can slow down the healing process and prevent your implants and jawbone from fusing properly.
Certain medications – Some medications can affect bone health or suppress the body's immune system. This can negatively impact osseointegration.
Poor oral hygiene – If you don't take good care of your smile by brushing twice and flossing once per day, this can lead to a range of problems that may negatively impact your implants, such as gum disease.
Bone loss – If your teeth have been missing for a while, you may have suffered jawbone loss due to lack of the stimulation needed to keep the jawbone healthy. This can cause your jawbone to weaken and may prevent successful osseointegration.
Bad oral habits – This includes drinking excessively, smoking cigarettes and using other tobacco products, consuming too much sugar, and using your teeth as tools. These things can greatly increase your risk of implant failure and other oral health issues.
About the Practice
Dr. Daniel Weldon and Dr. Elizabeth Estes Weldon are the skilled dentists who lead the talented Ocala team at Weldon Implant and Cosmetic Dentistry of Ocala. They administer a variety of effective treatments to their Florida patients, such as dental implants to replace missing teeth. They will perform a thorough examination before you proceed with the treatment to ensure that you're a good candidate and the procedure is safe for you. To make an appointment with Weldon Implant and Cosmetic Dentistry of Ocala or for more information, visit their website or call (352) 622-3236.