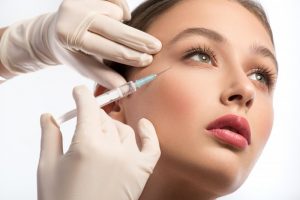 Botox at your dentist's office? What? Yes, Dr. Weldon offers Botox in Ocala to help you regain the youthful glow that you've been missing. This treatment might not be able to turn back the clock in a literal sense, but it can help you look your best no matter how many decades of life experience you have. Let's take a closer look at Botox and how it may be able to make you love what you see in the mirror.
What Is Botox?
Botox is the brand name of a toxin that's produced by a certain type of bacteria, but don't let the word "toxin" scare you. When this prescription substance is wielded by an expert, it is a safe and effective way to reduce the appearance of fine lines and wrinkles.
Botox doesn't actually do anything for your skin — it's up to you to keep your largest organ in good shape. The toxin works below the surface. It blocks signals from your nerves to your muscles. In effect, it paralyzes those muscles so they can't contract. When those muscles aren't able to move freely, the fine lines and wrinkles on the skin above them don't show up nearly as much as they used to.
It's important that you don't confuse Botox with dermal fillers. Fillers work by plumping up the tissues under your skin, thereby smoothing out lines and wrinkles.
What Is the Procedure Like to Get Botox?
The Botox procedure is pretty simple. Here's what happens:
You'll have a consultation. Most people are candidates for Botox, but if you're pregnant, breastfeeding, or have health conditions that affect your nerves and muscles, it may be unsafe for you to get the treatment.
Preparing for your procedure is easy. Your dentist in Ocala may advise you to avoid certain medications, such as aspirin and other anti-inflammatories, for two weeks before your treatment. It's also a good idea to abstain from alcohol for the week before your appointment.
When you have your treatment, your dentist will use a fine needle to inject Botox into the areas that you want to see smoothed out. The procedure only takes a few minutes, and the discomfort is minimal.
It takes about three to seven days for Botox to take full effect, so you'll have to wait a bit before you're wowed by the results of the injections.
Is It Permanent?
The effects of Botox wear off in about four to six months, so you may need to get retreated a couple times a year. However, as you continually receive Botox injections, you'll be training your muscles to relax, which will have long-term benefits for your appearance.
Are you ready to see a brand-new you in the mirror? Botox might be what you need to feel fantastic about your appearance.
About the Dentist
Dr. Daniel Weldon is passionate about keeping his patients' smiles healthy and functional, but he also understands that aesthetics are important as well. If you're interested in learning more about Botox, please contact our office at 352-622-3236.