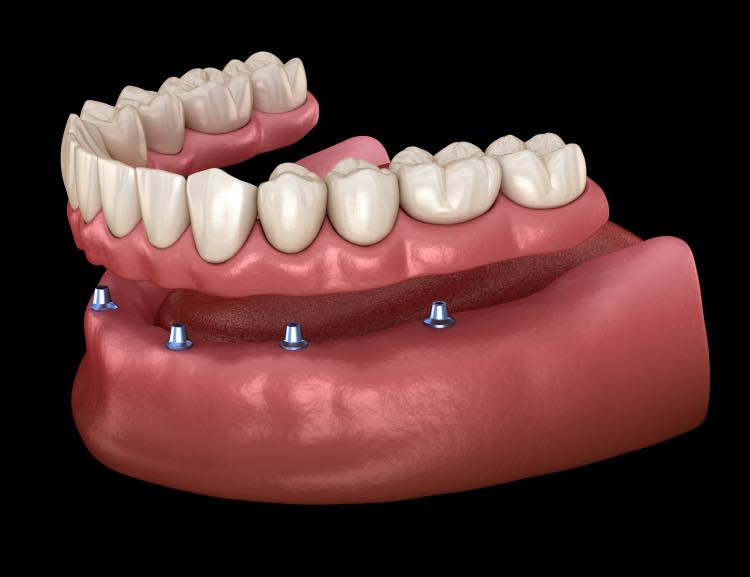 Losing all your teeth is scary for anyone, and oftentimes one of the first questions people ask their dentist is, "Is it possible to replace all my teeth?" Fortunately, the answer is yes! But with more options today than ever before, including both traditional dentures and implant-retained dentures, it's helpful to start by learning as much as you can about each type of full mouth restoration. Keep reading below to find out more!
Full-Mouth Replacement With Traditional Dentures
Traditional full dentures are made from a gum-colored acrylic base that has a full set of prosthetic teeth. They're held in place with a combination of natural suction and denture adhesive and need to be removed and cleaned each day with special products.
It typically takes several months to make a set of initial dentures. First, impressions are taken of your existing teeth. Next, after your extractions are done, you'll have the option of using immediate, temporary dentures while you fully heal. Then your permanent dentures can be made.
Here are some of the benefits of traditional dentures:
The initialcost is lower than it is for implant-retained dentures, but the long-term cost is often higher because of ongoing adjustments and more frequent replacements.
Doesn't require surgery.
With modern advances, they fit better than ever.
However, while dentures are a great choice for many patients, there are some drawbacks. Since they only replace the crowns of missing teeth, not the roots, the jawbone begins to shrink over time, causing the denture tobecome loose and start to shift. It's also harder to eat hard or tough foods such as steak or corn on the cob.
Full Mouth Replacement With Implant-Retained Dentures
Implant-retained dentures are very similar to full dentures but are held in place by implants instead of adhesive. This gives them superior chewing power, stability, and overall function. In many cases, a denture can be anchored with just 2-8 implants per arch. Here are some additional benefits:
Implants maintain the size and shape of your jaws, so your denture won't become loose or start to shift.
Implants themselves can last a lifetime and also extend the life of dentures.
You'll be able to chew much better, so you won't have to avoid your favorite foods.
Implants help your dentures feel and function more like your natural teeth.
The drawbacks of implant-retained dentures include a higher upfront cost and more time to complete the procedure. However, although it usually takes 3-6 months for implants to fully heal, you can use a temporary denture during that time.
If you're wondering which option is right for you, start by scheduling a consultation with an implant dentist. After they've evaluated your needs, they'll create a treatment plan that's perfect for you. But, regardless of whether you restore your smile with traditional dentures or implant-retained dentures, you'll soon have better oral health, more self-confidence, and a smile that looks great. 
About the Author
Dr. Daniel Weldon is a restorative dentist with over a decade of experience and a graduate of the University of Florida College of Dentistry. Having achieved Mastership in the International Congress of Oral Implantologists, he's able to provide outstanding implant dentistry in one office, from the initial placement to the final restoration. If you have any questions about traditional dentures or implant-retained dentures, he can be reached via his website.