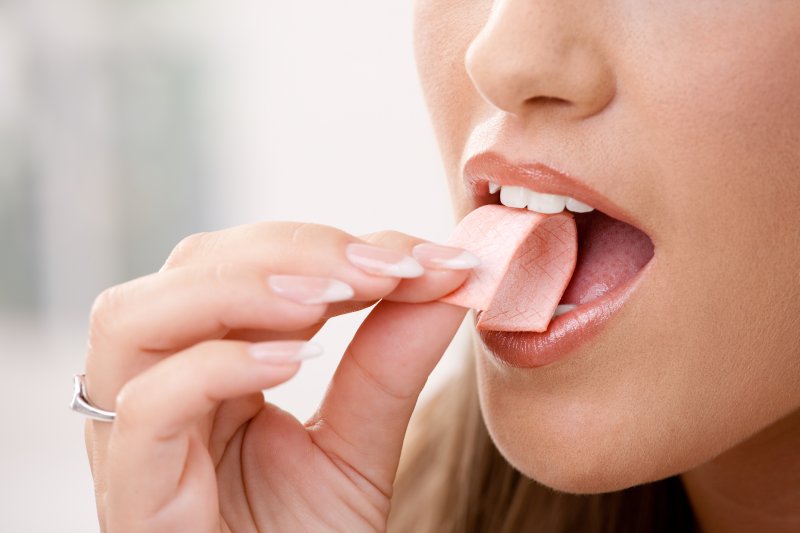 Do you like to chew gum? You come across it almost every time you are at the register of your local convenient and grocery store. Even though it's takes sugary and sweet, it has many different benefits to your smile and can even help you when it comes to avoiding cavities. Continue reading to learn more about the benefits of chewing gum from your dentist in Ocala.
Gum Helps to Clean Your Teeth
By chewing on sugar-free gum, you are helping to remove food particles that are stuck in your teeth. By removing this debris, you are reducing your risk of developing cavities. Even though chewing sugarless gum isn't a replacement for regular brushing and flossing, it can help to clean the surfaces of your teeth, improving your oral hygiene and health overall.
Sugar-Free Gum Increases Your Saliva Production
There are many different benefits of having a healthy saliva production. First of all, saliva neutralizes harmful acids in your mouth that soften your enamel and lead to tooth decay. It also prevents dry mouth, which has many terrible side effects like bad breath, increased bacteria growth, and increased tooth decay. Keeping your mouth moist is crucial to good oral health.
Xylitol Has No Bad Effects on Your Teeth
By using a sugar replacement called Xylitol, sugar-free gum can actually reduce the amount of cavity causing bacteria in your mouth. It is unable to fuel the growth of bacteria, but you will get the satisfaction of a sweet flavor in your mouth. Overall, it is safe for your teeth.
Some Types of Gum Strengthen Tooth Enamel
Certain gum manufacturers are beginning to add a substance called phosphopeptide-amorphous calcium phosphate (CPP-ACP) to their products. This is more commonly known as Recaldent. It is said to remineralize and harder your tooth enamel making it stronger and more resistant to tooth decay.
Should You Be Chewing Gum Regularly?
For most people, chewing sugarless gum is a good preventive measure to take in addition to regular brushing and flossing. But in a few situations, it may not be recommended. For instance, if you experience any type of jaw pain or temporomandibular disorder symptoms (TMD/TMJ), chewing gum is not recommended.
Next time you're in line at your local convenient store, it doesn't hurt to grab a pack of sugarless gum. Chewing a piece doesn't hurt your teeth and even has some benefits. Now you can have no worries when you are looking to satisfy your sweet tooth.
About the Author
Dr. Daniel Weldon is a general and cosmetic dentist serving patients living in and around the Ocala, FL area. He earned his Doctor of Dental Medicine from the University of Florida College of Dentistry and has been continuing his education through the world-renowned Spear Education. He is a member of several different professional organizations including the American Dental Association, the Florida Dental Association, and the American Academy of Dental Sleep Medicine. For more information or to schedule an appointment, visit his website or call (352) 622-3236.