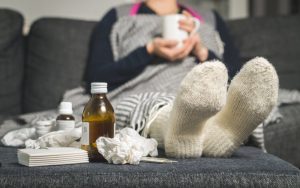 As the weather gets colder, many of us are beginning to sneeze and cough. When you come down with a cold or the flu, it can be difficult to think of anything besides treating your symptoms. However, don't forget to take care of an important part of your body—your mouth! Both your sickness and how you choose to treat it can have a significant impact on the health of your teeth and gums. Read on for some practical advice from your dentist about how to take care of your oral health during cold and flu season.
Keep Up Your Dental Routine
Resting is an important part of any recovery period, but don't let it keep you from regularly practicing great oral hygiene! Getting sick increases the amount of bacteria in your mouth, which can speed up tooth decay, encourage gum disease, and can keep you from getting healthier faster. So, even when you're tired, make sure that you:
Brush for two minutes twice a day
Use mouthwash and floss daily
Throw out your toothbrush once you feel better
Avoid Sugary Medicine
To make them more appealing, many medications come in a wide variety of fantastic flavors, including watermelon, citrus, and cinnamon. But before you grab the tastiest sounding cough syrup or throat lozenge, check the nutrition label for sugary ingredients like fructose and corn syrup. Just like sucking on a hard candy or eating maple syrup, these will coat your mouth in a layer of sugar and encourage tooth decay. To protect your teeth from an increased risk of cavities, try using sugar-free products.
Stay Hydrated the Right Way
Whether you're sick or not, it's important for nearly every aspect of your health that you stay hydrated. Drinking plenty of water prevents dry mouth, which is a common side effect of a stuffed-up nose and decongestants. Staying hydrated allows saliva to constantly wash over your teeth and gums to wash away bacteria before it can accumulate.
Some drinks help you get over your sickness as they hydrate you. Many people will drink a cup of hot tea to soothe a sore throat or a glass of orange juice to boost the immune system with vitamin C. Unfortunately, both of these popular choices are also highly acidic, which means that they wear down your enamel. This causes your teeth to become weaker and more prone to discoloration. Thankfully, you can still enjoy the benefits of these beverages while protecting your teeth by drinking them through a straw! It may seem silly at first, but your smile will thank you in the long run.
This cold and flu season don't forget about taking care of your oral health. If you get sick, keep these tips in mind to keep your teeth happy while you get healthier.
About the Author
The friendly and experienced team at Weldon General and Cosmetic Dentistry is dedicated to providing superior dental care to the Ocala, FL community. Dr Daniel Weldon understands how interlinked oral health and general wellbeing are, which is why he is committed to providing affordable treatments that are done right the first time. If you'd like to know more, he can be contacted via his website or at (352) 622-3236.