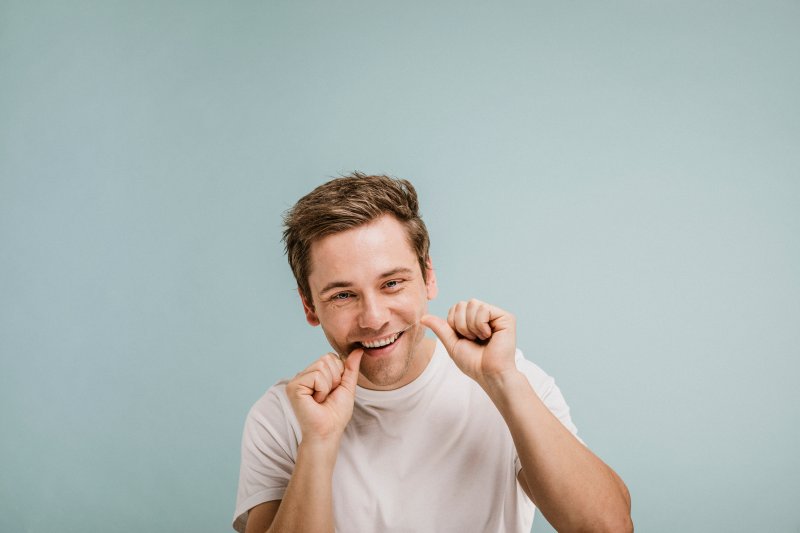 If you've been wanting to straighten your pearly whites, then Invisalign may be your best option. Not only will you avoid needing to wear metal brackets and wires, but you'll be able to still show off your smile with virtually invisible clear aligners. You also won't have to worry about any dietary restrictions, so you can enjoy your favorite meals as long as you remove your trays. Since food can easily get stuck between your teeth, you'll need to make sure to clean them properly. Read on to learn what you should know about flossing with Invisalign!
Why It's Important to Floss
While brushing is an essential part of cleaning your smile, you'll only be able to remove about 60% of plaque and debris. The other portion can typically get lodged in between your teeth. That's why flossing is highly important for maintaining good oral health, as it allows you to clean the hard-to-reach areas. This is especially crucial during Invisalign, as you'll wear your clear aligners for up to 22 hours a day, which can allow bacteria to easily accumulate over time. If left unchecked, you may increase your risk of gum disease, cavities, and even bad breath. To avoid this, you'll want to floss at least once a day or after every meal.
How to Properly Clean Your Teeth with Invisalign
Here's a step-by-step guide to proper flossing with Invisalign:
Remove your aligners: During your treatment, you'll need to clean your teeth and your trays frequently. Since you'll also take them out before meals, you might consider soaking them in water or cleaning crystals to keep them bacteria-free.
Brush your teeth: Be sure to scrub any debris and leftover food from your teeth and gum line. Keep in mind that your brush won't be able to reach all the areas of your mouth.
Rinse out your mouth: Swishing water or mouthwash around your mouth helps loosen up any remaining particles. You may be surprised to see the amount of debris left over, especially after a meal. Rinse and repeat as necessary.
Floss your teeth: Take a dental floss that's about 18 cm long and wrap the ends around your fingers, leaving a few inches to work with. Curve the strand in a "C" shape around one tooth and glide it gently up and down, also reaching under the gum line. Once you've finished one, move on to another tooth until you've cleaned your whole smile.
After you're done flossing, you can put your Invisalign aligners back on to enjoy your day. By practicing the proper cleaning technique, you'll be sure to undergo a smooth process for straightening a healthy smile!
About the Author
Dr. Daniel Weldon earned his dental degree from the University of Florida College of Dentistry. He's also a proud member of several organizations such as the American Dental Association and the Ocala Metropolitan Rotary Club. He regularly seeks continuing education to refine his skills so that he can provide high-quality treatments for his patients, including Invisalign. If you'd like to know how to maintain a healthy smile throughout Invisalign treatment, visit his website or call him at 352-622-3236.