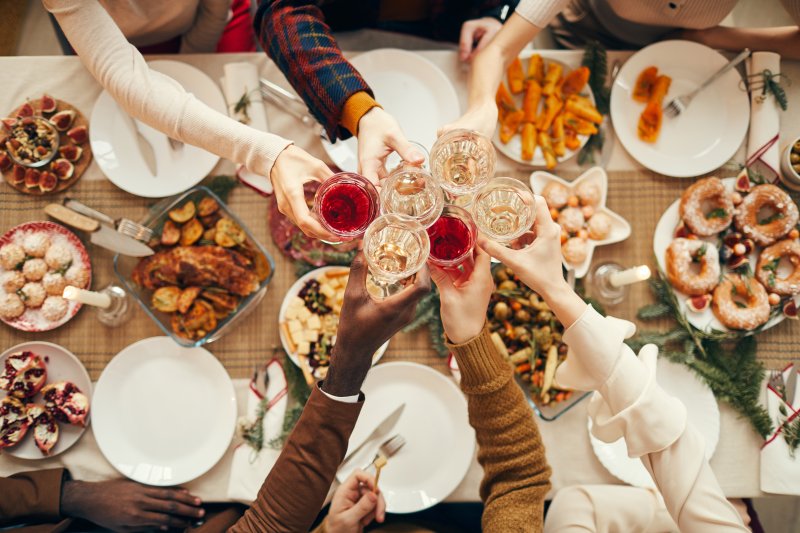 Are you excited to enjoy some holiday treats before the new year is here? Everything from turkey to candy canes to eggnog seems to make an appearance, but not all of it is the best for your smile. If you want to keep your oral health in good condition this year, there are certain foods you should know that are the worst offenders when it comes to your teeth and gums. Below, a dentist will rank each holiday food so you don't have to!
Top Four Worst Holiday Foods to Avoid
When it comes down to it, these are by far the worst foods you can eat if you're trying to protect oral health.
Candy Canes – Not only does sucking on them leave your teeth exposed to sugar for longer periods of time, but chewing them can easily increase the risk of a tooth cracking or eroding faster than normal. If you want to avoid a holiday trip to the dentist, avoid these entirely.
Ice Cubes – Chewing on ice cubes is hardly much different than chewing on a rock when it comes to their hardness. A tooth can chip, crack or even completely fracture if consumed too often. As the ice melts, it also exposes your teeth to severe temperature change. The best thing you can do is dump the ice out of your beverage when you're done drinking it.
Carbonated Beverages – Even if you chose a sugar-free diet option, the carbonic acid can easily erode teeth if you expose them to carbonated beverages too often. Kicking the habit will also help to keep your smile white in time for the family holiday photo!
Eggnog – It's important to note that eggnog contains very high amounts of sugar. To reduce your risk of tooth decay, consider creating a sugar-free option.
Top Four Best Foods to Enjoy This Holiday
If you want to keep your smile healthy on top of your oral care, consider adding the following options to your diet.
Cheese – Feel free to indulge in your family's cheese platter this holiday as it can lower your mouth's pH balance and contains casein, which can lower your risk for tooth decay.
Nuts – Your favorite nut likely contains iron and magnesium, two minerals essential for keeping teeth strong. It's also a great food for stimulating saliva production, which is necessary for washing away loose food debris!
Turkey – When it's time for a slice of turkey, feel free to double up! Since its non-fermentable, it won't trigger cavity-causing responses in the mouth. It also contains phosphorus, which works in tandem with calcium to strengthen teeth.
Sugar-Free Gum – When you've just finished a meal, sugar-free chewing gum is a great way to kickstart saliva production. Saliva plays a major role in reducing your risk for tooth decay, so feel free to chew for a good 20 minutes after finishing your meal!
You don't have to skip holiday foods just to maintain positive oral health this season! Keep the healthy foods on your plate and you'll be sure to have a healthy smile come the new year!
About the Author
Dr. Daniel Weldon enjoys educating patients on maintaining good oral health at home as much as he does providing preventive treatments to help them avoid issues in the first place. To get your next appointment scheduled, you can contact him through his website.