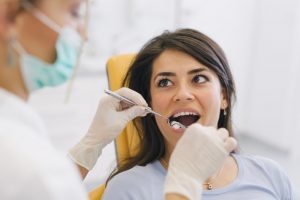 If you've ever waited to ask your dentist in Ocala questions during your dental visit, you'll want to take this advice from them today. In many ways, your dental team is just as capable of answering any questions you may have, so you don't have to wait for your dentist to get the professional information you want. For example, your hygienist can help your children improve their oral health, recommend the right mouthwash or toothpaste for your teeth, or explain how to make your teeth whiter.
Here are a few questions to ask your hygienist during your next visit.
How Can I Help My Kids Improve Their Oral Health?
This is one of the more common questions your dentist in Ocala hears. Getting children to practice regular brushing can be difficult at first, but it makes a huge difference as they develop. Not only can your hygienist recommend the proper technique and products for kids, but also introduce methods to make brushing easier and fun.
Additionally, she can also determine when dental sealants or additional fluoride treatments could benefit your child as they acclimate to brushing and flossing daily.
What Foods are Good for Oral Health?
Just like how oral health is tied to overall health, your oral health is directly influenced by your diet. Without a well-balanced diet, you can't practice perfect oral care. However, many patients don't spend as much time thinking about which foods are great for teeth and gums, but your hygienist can help. They can also inform you of the foods that do the most damage and how to replace them effectively.
How Can I Make Teeth Whiter?
Depending on the condition of your teeth, your hygienist may recommend simple teeth whitening or porcelain veneers to improve your smile's appearance. Remember, they spend a lot of time comparing treatment plans and viewing results, so they can give you insight you might not have otherwise expected. For example, they'll be better able to tell when discoloration is intrinsic vs. extrinsic and provide advice from there.
Which Oral Care Product is Right for Me?
Not all oral care products are created equal, but we're not just talking about flavor or effectiveness. Some products that work fine for you may be detrimental or unnecessary for someone else. Oral health and genetics come hand and hand, so understanding this early can make a difference for prevention. If your hygienist believes that you would benefit from a fluoride mouthwash, natural toothpaste, or soft-bristled toothbrush, take their input into consideration!
Am I Flossing Correctly?
It's unfortunate, but there is in fact an incorrect way to floss. Luckily, your dentist can easily point it out by examining your gums. If they are receding, there's a good chance that you're either brushing too hard, brushing for too long, or flossing with too much force. Your hygienist can provide the best technique for flossing without damaging your teeth as well as alerting you when it's time to swap your floss.
Your children's dentist in Ocala hopes you'll make use of your hygienist's knowledge the next time you visit. We hope you schedule an appointment with us today!
About the Author
Dr. Daniel Weldon earned his Doctor of Dental Medicine degree from the University of Florida College of Dentistry. Since then, he's continued his education through the Spear Education group and become a member of several dental organizations. To learn more about his practice, contact him at (352) 622-3236 or visit his website.