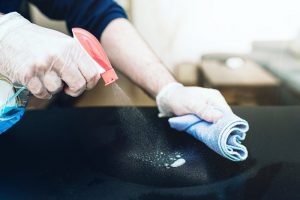 Are you looking forward to scheduling an appointment with your dentist again but want to know how they're taking extra steps to ensure patient's safety during COVID-19? Making your safety a top priority is important, and your dental office feels the same way. That's why they're following CDC guidelines and even taking advanced measures to help patients social distance and stay healthy when they get their  next checkup and cleaning. Read on to learn more about the preventive measures your dentist is taking to reduce the spread of COVID-19. ß
How is COVID-19 Spread?
According to the CDC, COVID-19 is spread via droplet transfer to the mucous membrane. What that means is if a patient who is infected sneezes, coughs, or even talks too loudly, small droplets of saliva will transfer to any objects or people surrounding them. When a non-infected person touches one of these surrounding surfaces and touches their face, it will transfer to their mucous membrane (eyes, nose, or mouth) and also infect them. It's said that these droplets can spread up to six feet or more, which is why states across the country are enforcing social distancing in an effort to curb the spread of the virus.
Are Dental Offices Open Again?
In March, dental offices across the country closed their doors and postponed all treatments, focusing solely on providing emergency dental care for patients in pain. Fast forward to the end of April, and dental practices are planning on opening back up with the proper sanitation and disinfecting guidelines in place. That way, patients requiring checkups and cleanings and other care can receive it without needing to worry about risking their health.
What Safety Measures Is Your Dental Office Taking to Keep Patients Safe?
Your dentist is following CDC safety guidelines as well as additional precautionary measures to make sure that patients and staff stay safe. Here are some practices that they're implementing to ensure your health:
Regular and frequent hand hygiene
Use of personal protective equipment
Implementation of social distancing in their facilities
Standard sharps safety
Safe injection practices whenever necessary
Routine sterilization and disinfection of tools, surfaces, and devices
If you're concerned and would like to learn more about your dental office's unique safety practices to ease your mind before your appointment, don't hesitate to call them and ask! In such uncertain times, dentists are taking incredible measures to make sure that patients and staff stay as safe as possible while providing and receiving high-quality dental care.
About the Author
Dr. Daniel Weldon has been practicing dentistry for over a decade and is dedicated to providing his patients with trusted, high-quality dental care. He is an active member of several professional organizations and takes continuing education courses to stay up-to-date with the latest happenings in his field. For questions or to schedule a checkup and cleaning, visit Weldon General and Cosmetic Dentistry's website or call 352-622-3236.