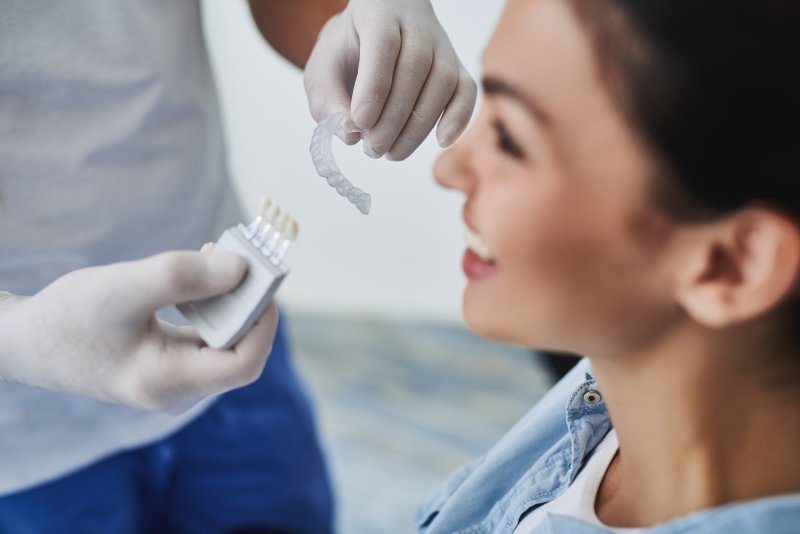 Once you finish treatment with braces, you might think your teeth will be straight forever. After all, you spent so much time with brackets and wires in your mouth. However, the truth is that your pearly whites might shift back out of alignment over time. That said, you don't *have* to wear braces again if this scenario happens. You could rely on Invisalign to re-straighten your smile! As for how that works, your local dentist can explain. Here's what you should know when getting Invisalign after braces in Ocala.
What's Invisalign?
Put simply, Invisalign is an orthodontic treatment that uses clear aligners to straighten teeth. In particular, its trays move each tooth gradually with "micro-movements."
Invisalign has you wear a series of aligners over several months or more. Each one of these trays is molded to how your teeth align at a certain time. Together, they represent the different stages of your grin throughout the treatment.
In most cases, you wear each pair of aligners for at least a few weeks. Once those weeks are over, your dental provider will give you a new set for the next phase of the straightening.
Can it Straighten Teeth If You've Had Braces?
Invisalign can usually straighten teeth even if you've already had braces. As a matter of fact, many Invisalign patients are those who had braces in the past.
That said, speak with your orthodontist to see if you qualify. While Invisalign can handle most alignment problems, it might only work if your issues are mild. As such, you'll need to undergo an exam to see whether you're a good candidate.
The Benefits of Invisalign Over Braces
Compared to traditional braces, Invisalign has many perks. These benefits include:
No Metal Mouth: While braces use metal brackets and wires, Invisalign's trays are made of clear plastic. Consequently, the latter treatment is subtle and less eye-catching. You won't have to worry about friends or family seeing a "metal mouth" when you smile!
Increased Comfort: Invisalign aligners don't poke your mouth with brackets or wires. Rather, the plastic trays are quite comfortable to wear once you've adjusted.
Faster Treatment: As you might know, braces usually need 12-18 months to straighten teeth. In contrast, Invisalign only takes 6-12 months on average. That being the case, you can count on aligner treatment taking less time than your braces.
When you get Invisalign after braces in Ocala, you can trust you'll get quality results. Therefore, talk to your local dentist or orthodontist about treatment options soon!
About the Practice
Weldon General & Cosmetic is based in Ocala, FL. As led by the titular Dr. Daniel Weldon, our practice strives to offer comprehensive dental services. To that end, we perform a wide range of preventive, cosmetic, and restorative treatments, even including emergency care. Our office also takes pride in being a certified provider of Invisalign clear aligners. For more information or to book a visit, you can reach us on our website or by phone at (352)-622-3236.