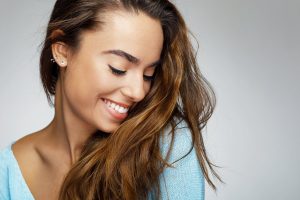 More adults may be straightening their teeth than you even realize! Now that there's a way to fix a crooked smile without metal brackets and wires, more and more mature patients are turning to Invisalign in Ocala. Weldon General & Cosmetic Dentistry offers this revolutionary orthodontic option to patients who want to improve the alignment of their teeth without feeling embarrassed during their treatment.
What is Invisalign?
Did you know that you can straighten your teeth without anyone knowing it? Invisalign clear aligners are created from smooth, see-through plastic trays that gradually shift your teeth into their correct positions. Yeah, you read that right! They're practically invisible. You won't have to worry about your peers or coworkers noticing your treatment—let alone any soft tissue injuries from rough metal brackets in your mouth.
Each set of aligners are custom crafted to fit tightly over the top and bottom arches of your teeth. Over the course of 9 to 18 months (depending on the severity of your dental issues) the aligners carefully push teeth into healthier, more attractive positions.
Why are more adults turning to Invisalign?
Your cosmetic dentist in Ocala usually recommends Invisalign for older teens and adults. Since children's mouths are constantly developing and changing, they don't typically make the best candidates for this treatment. Children need a more regimented straightening treatment like traditional orthodontics. However, these aligners are ideal for individuals who desire a proper bite and a beautiful, straight smile, but don't want to stain their professional image with metallic braces. Adults who have settled into their careers or teens that are experiencing the adversities of high school are the best candidates for Invisalign.
What Are the Benefits of Invisalign?
There are many benefits that come with the Invisalign treatment:
Having the ability to be removed for brushing, flossing, meals and special occasions (graduations, weddings, and other once in a lifetime events).
Having the ability to keep your soft tissues and gums injury free.
Simplifying home oral hygiene and professional cleanings with your dentist in Ocala.
You can still enjoy your favorite foods without worrying about damaging your orthodontic treatment.
Simply trading our aligners for the next in line rather than painful wire tightening appointments.
Make Your Smile a Success Story!
Many patients have seen successful results from undergoing the Invisalign treatment thoroughly. There are countless cases of patients who can't believe how quickly and discreetly they were able to achieve the results they're been longing for. Check out the success stories page on the Invisalign web page. Who knows? After your treatment, you may be able to use your story to help other patients improve their smiles, too!
Do You Think Invisalign May Work for You?
Choosing the best way to straighten your teeth starts with a scheduled consultation with your dentist. This way, our experts can review your oral structures, dental issues, and develop a customized treatment plan with you—whether it's Invisalign or a better option for you. Contact us today to schedule the next available appointment and visit our Ocala office to get started.