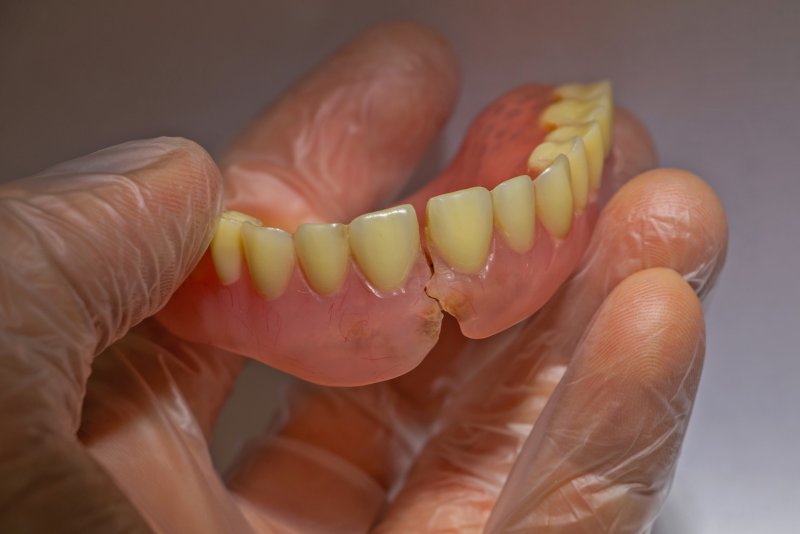 At first glance, what qualifies as a dental emergency can seem obvious. You likely equate one with issues like chipped teeth, tooth infections, or severe gum disease. However, did you know a broken denture counts as one too? Indeed, it's crucial to get urgent care when artificial teeth stop working. To see why that's the case, just let your Ocala dentist explain. Here's a summary of why broken dentures are an emergency and what to do about them.
Some Context: What Makes Dentures Break?
Before anything else, it's helpful to know what breaks dentures in the first place. After all, grasping the cause lets you confirm if the prosthetic is really busted. That being said, then, the most common things that make dentures break are:
Natural Wear & Tear: When you use a denture for many years, it'll go through many stress cycles of chewing and wear. From there, the prosthetic will be at increased risk of breaking or fracturing.
Injury or Accident: Since dentures are removed for cleaning and sleeping, they can often fall from precarious perches. Plus, they can even fall out of your mouth at times. As such, there's always a risk that you'll accidentally drop and damage your own.
Jawbone Shrinkage: Unfortunately, dentures don't stop the bone loss in your jaw due to tooth loss. With time, therefore, they can become ill-fitting and suffer stress-related cracks.
Why is a Busted Denture an Emergency?
True enough, dentures are artificial and so aren't a natural part of your mouth. Still, they help you with crucial, everyday tasks. To that extent, their breaking can lead to a severe decline in your quality of life.
Consider eating, for instance. While you might take this practice for granted, unreliable dentures will make it super tricky. Using them could cause changes to your diet that greatly impact your health.
How Your Dentist Can Help
Your dentist can examine the dentures up close at an emergency dental visit. That way, they can repair or replace the prosthetic and ensure the problem doesn't repeat.
They could perform a denture reline if the issue stems from a poor fit. Of course, they can recommend newer dentures too.
Alternatively, the dentist may suggest an implant denture if your problem is a shrinking jawbone. This type of restoration is custom-made, so it would fit snugly and give you more confidence in everyday life. It also reduces or even prevents bone loss, lowering your odds of facial collapse.
As you can see, a broken denture is more than meets the eye. You should thus care for it quickly before the emergency gets out of hand.
About the Practice
Weldon General & Cosmetic is based in Ocala, FL. As led by Dr. Daniel Weldon, our practice offers quality dental care in a comfortable environment. In particular, we perform preventive, cosmetic, and restorative dentistry, not to mention emergency tooth procedures. You can thus rely on us for everything from dental checkups to dentures! For more information or to book a visit, you can reach us on our website or by phone at (352)-622-3236.