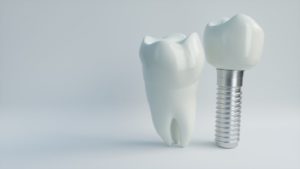 Modern dental implants have been used for about 50 years, but the concept of replacing teeth with implants is nothing new. In fact, ancient skulls from the Mayan civilization indicate that they replaced teeth with carved stones all the way back in 600 A.D. Fortunately, dental implants in Ocala are much safer and more reliable these days. Let's look at three of the ways in which dental implant technology has evolved to deliver a lifetime of healthy, beautiful smiles.
Digital Implant Placement Planning
These days, most dentists use an implant planning software that combines digital impressions with CBCT technology. This allows your dentist to create a 3D, panoramic image of your mouth, jaw, and other oral structures that are critical to successful implant placement. It also lets your dentist determine whether you have enough jawbone mass to support implants. If not, the implants could ultimately fail, meaning the placement procedure was all for naught. With digital implant planning, your dentist can figure out whether you'll need any preparatory work, such as bone grafting, to give your new teeth the strong foundation they'll need to last a lifetime.
Computer-Guided Dental Implant Surgery
Once your jaw is ready to receive dental implants, it's absolutely essential that they are positioned correctly. When the surgery is planned digitally, the odds of success are exponentially higher. Fully computer-guided dental implant surgery is actually the most precise method of placing implants in their exact location and angle. When the procedure is this predictable, much fewer problems and surprises occur.
Antibacterial Coating
Another technological advancement that allows dental implants to last for decades is the development of an antibacterial coating for the implant posts. Acidic foods and drinks can gradually erode not just the enamel of your teeth, but also your implants. Coating your implants in this antibacterial substance, coupled with diligent brushing and flossing, could shield your implants from damage and help them last a lifetime!
More than three million Americans are already enjoying the plethora of benefits that dental implants have to offer. With these modern innovations in dental implant technology, you can expect that number to only increase in the future. If you're missing teeth, ask your dentist whether dental implants are right for you!
About the Author
Dr. Daniel Weldon is a graduate of the University of Florida College of Dentistry. Having achieved a Mastership in the International Congress of Oral Implantologists, he's able to provide outstanding implant dentistry in one office, from the initial placement to the final restoration. If you have any questions about dental implants in Ocala, you can call his office at 352-622-3236 or visit his website.