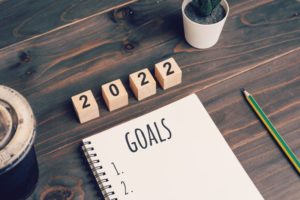 Weight loss, career moves, and spending more time with friends and family are all popular New Year's resolutions in Ocala for 2022. Whatever you hope to accomplish, though, you can support your journey toward achieving your goals by caring for your overall wellness — and that includes looking after your smile. Let's talk about some practical goals you can set that will help you improve your oral health.
Floss Daily
Various surveys have found that approximately 30 – 40% of adults regularly floss their teeth. Are you in that diligent group? If not, now is the time to think about how you can get into this habit. Many people have found that placing their floss somewhere visible (instead of in a drawer) helps them remember to floss. You could also ask family members to keep you accountable.
Visit Your Dentist
Do you visit your dentist twice a year? If not, you are missing out on some of the benefits of professional preventive dental care. Try to schedule an appointment for early in 2022, and get your second one on the books for sometime during the summer. You'll enjoy a cleaner smile, a lower risk of dental problems, and a more comfortable relationship with your dentist.
Adjust Your Eating Habits
Sugar is a big contributor to plaque and dental decay, so it would be wise to limit how much of it you eat. You don't have to cut out sweets altogether, but taking small steps — for example, replacing soda with plain water — can do much for both your oral and overall health. You could further benefit your smile by eating more foods that are rich in tooth-friendly nutrients, such as calcium, vitamin D, and phosphorous.
Quit Smoking
Quitting smoking is certainly a challenge, but you can rise to meet it! Your efforts will reduce your risk of oral cancer, bad breath, stained teeth, gum disease, and other oral health problems. If you are struggling to find the best way to kick the habit, ask your dentist or primary care practitioner for suggestions. They may be able to help you design a personalized "quit plan" that will set you up for success.
Fight Dry Mouth
A dry mouth is at a higher risk of cavities, bad breath, and harmful bacterial buildup. Drinking plenty of water and chewing sugar-free gum can encourage saliva production. If any of your medications have dry mouth as a side effect, consult with your doctor to find out if there are any alternative options that might be better for your oral health.
Would you like to enjoy a healthy smile in Ocala throughout 2022 and beyond? Working toward the goals suggested in this article can help your teeth and gums to thrive.
Meet the Practice
Dr. Daniel Weldon is a general dentist with more than 10 years of experience in his field. He is a member of the Florida Dental Association, the American Dental Association, and other prestigious organizations. To learn more about Dr. Weldon and how our practice may be able to serve you, contact us at 352-622-3236.