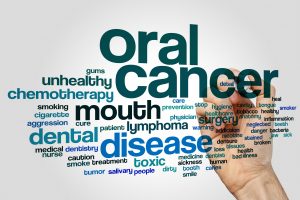 According to the Oral Cancer Foundation, over 50,000 Americans will be diagnosed with oral cancer this year. Dentists serve on the frontline of the battle against oral cancer, as they are often the first to notice the early signs and symptoms of the disease in a patient's mouth during routine checkups.
Have you visited a dentist in Ocala recently? April is Oral Cancer Awareness Month, so there is no better time than now to learn about how an oral cancer screening can help you beat this deadly disease.
What is Oral Cancer?
Cancer is a disease in which abnormal cells grow out of control and destroy body tissue. When this occurs in the mouth and parts of the throat, it is known as oral cancer. Oral cancers, which according to the National Institutes of Health represent the sixth most common cancers in the world, can occur in the gums, tongue, lips, cheeks, esophagus, tonsils and middle region of the throat.
Early warning signs of oral cancer include:
Red or white patches or dots in the mouth
Lumps or thickened areas of skin in the mouth
Feeling like something is stuck in the throat
Unexplained mouth pain
A roughened or crusted area of the mouth
Sensitive lymph nodes
Difficulty chewing or swallowing
Difficulty moving the tongue or jaw
Risk Factors of Oral Cancer
Unfortunately, oral cancer cannot always be prevented. However, there are lifestyle habits you can follow to reduce your risk of developing the disease, such as:
Check for changes in the soft tissues of your mouth as part of your daily oral hygiene routine
Avoid smoking or chewing tobacco
Avoid heavy alcohol consumption
Visit your dentist regularly for an oral cancer screening
Oral Cancer Screening: What to Expect
A routine checkup at the dentist's office is about more than just checking for cavities. Your dentist will also examine your mouth and neck for signs of serious oral diseases, including oral cancer. An oral cancer screening typically consists of:
A visual examination of the mouth for signs of oral cancer using special observation tools
A manual examination the mouth, face, neck and lymph nodes for unusual lumps and bumps
A conversation about your exposure to oral cancer risk factors, such as tobacco use
Questions to help identify symptoms of oral cancer that are invisible to naked eye, such as a sore throat
How Often Should I See the Dentist?
According to the National Institute of Dental Craniofacial Research, the five-year survival rate for persons diagnosed with oral cancer early is 75%. The survival rate drops to only 20% for those who are not diagnosed until later, after cancer has spread.
The takeaway: detecting oral cancer early on is critical to successful treatment. For this reason, the American Dental Association recommends seeing a dentist every six months for a routine dental exam and oral cancer screening.
This April, take action to preserve your dental health – and overall health – by partnering with a dentist in Ocala for an oral cancer screening.
About the Author
A proud University of Florida College of Dentistry graduate, Dr. Daniel Weldon is dedicated to providing outstanding dental care to patients in Ocala. As an officer for the charitable Andrew J. Semesco Foundation, Dr. Weldon does his part to help raise funds for oral head and neck cancer research. Patients interested in learning more during Oral Cancer Awareness Month can visit the Weldon General & Cosmetic Dentistry website or call Dr. Weldon at 352-622-3236.