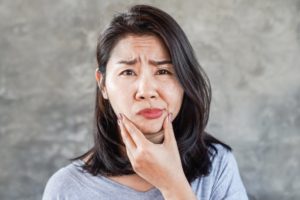 Dental emergencies happen when you least expect them, and while many people imagine they're always as overt as getting blindsided by a basketball to the face or falling face-first and knocking out a tooth, that isn't always the case. If you experience facial swelling that's not the result of a direct impact, it could mean that there's an urgent issue brewing deep beneath the surface of your gums. Read on to learn why facial swelling is a sign you need to see an emergency dentist and how they can help ease it.
Why May Facial Swelling Occur?
Facial swelling can happen for a variety of reasons, not all of which mean you need an urgent trip to your emergency dentist. Listed below are some of the most common reasons why you may experience swelling and whether they require timely treatment.
Infection
If a tooth infection burrows down to the roots of your teeth and attacks the roots, you may experience facial swelling as a result. This requires urgent attention so the infection doesn't have an opportunity to spread any further.
Direct Trauma
Direct trauma to the face can cause swelling as a result of the impact, but it doesn't always mean that you need to get an emergency dentist involved. If the incident didn't cause any oral damage, there's no need to visit a dental professional. However, if you notice a chipped or loose tooth, or any other oral damage, you'll want to schedule an emergency appointment.
Post-Operative Side-Effect
If you just had a tooth extracted, including your wisdom teeth, it's not unlikely that you'll experience facial swelling in the first few days. This is completely natural. However, if the swelling doesn't go down or you experience rising discomfort, you'll need to visit your emergency dentist or the person who completed your extraction immediately because there could be complications.
How Can Your Emergency Dentist Treat Facial Swelling?
The way your emergency dentist will treat facial swelling depends on the underlying problem. For an infection, a root canal or tooth extraction may be necessary. For a broken or damaged tooth, direct bonding or another cosmetic procedure to seal your tooth off and rebuild its structure may be the answer. They won't be able to know until they've had a chance to examine your mouth and X-rays.
If you're ever in doubt whether you should visit an emergency dentist, the best thing to do is call them! They'll be able to let you know if it requires urgent attention and it's within their scope of practice, providing you with the peace of mind that you're going and doing exactly what you need to be in the midst of a time-sensitive situation.
About the Author
Dr. Daniel Weldon has been practicing dentistry for over a decade and loves what he does. When patients come to him in pain, he works quickly and efficiently to ease their discomfort and repair their smile so they can go on with the rest of their day. He offers same-day emergency appointments as well as flexible financing options to make seeking urgent dental care easier and stress-free. For questions or to schedule an emergency examination, visit Weldon Implant and Cosmetic Dentistry of Ocala's website or call 352-622-3236.