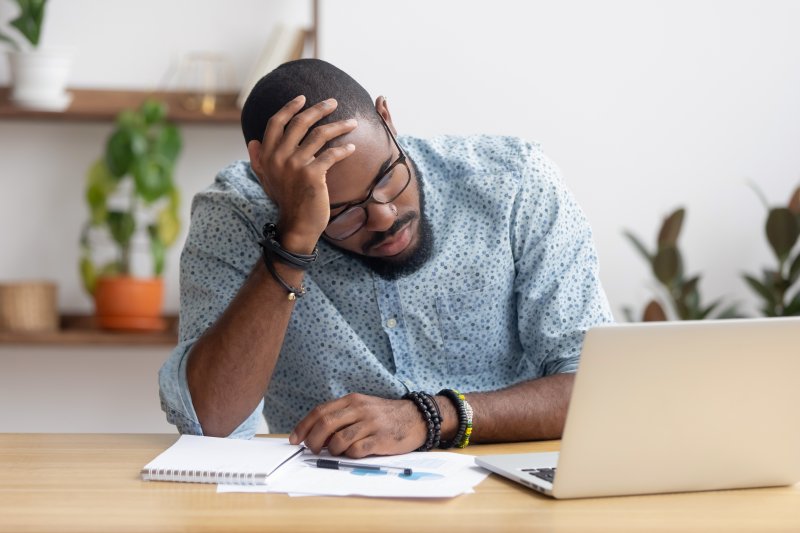 The pressures of your job, the anxieties that come with raising a family, concerns about your financial situation – it's no surprise that stress is a common problem for many Americans. Uncontrolled stress can eventually start to affect your body, and your mouth is no exception. Here are 6 reasons why living with constant anxiety could eventually lead to seeing the dentist for gum disease and other oral health issues.
1. Poor Oral Hygiene
If you feel like you don't have enough time to do everything you need to, you might not brush or floss as often as you need to. As a result, the plaque and tartar in your mouth will stop to build up, and you'll be at a much higher risk of tooth decay and gum disease. These conditions can cause you a lot of pain and might even result in tooth loss; you might need to get special treatments from the dentist to take care of them, which could cause further stress.
2. Teeth Grinding
When you're worried or have a lot on your mind, you might end up grinding your teeth while you're asleep. If this happens, your enamel will start to wear down at an accelerated rate; they might even crack under the pressure.
Teeth grinding can also lead to TMJ disorders. The TMJ is the joint located on both sides of the head that attaches the lower jaw to the rest of your skull. If it becomes damaged from grinding, you could suffer from constant jaw pain and headaches.
3. Mouth Sores
Canker sores can form on any of the soft tissues in your mouth or at the base of your gums. The exact cause of these sores isn't clear, but many studies have shown that emotional stress is a significant risk factor.
4. Gum Disease
Stress has a negative effect on your immune system and can leave you more vulnerable to infection. Not only does this increase your risk of gum disease, but it can also cause an existing infection to become even worse than it already is.
5. Dry Mouth
When you're constantly nervous, you might notice that your mouth dries out easily. This is a problem because saliva performs many important jobs in your mouth such as washing away food particles on your teeth and gums.
6. Missing Dental Appointments
Patients who are worried about other things might decide to make dental checkups less of a priority. Unfortunately, this means oral health problems likely won't be found until it's already too late.
If you've been suffering from any of these symptoms, obviously you'll need to see your dentist to take care of existing oral health problems. That said, you should also take steps to start managing your stress; the threat to your smile won't go away until you've dealt with the underlying problem, after all!
About the Author
Dr. Daniel Weldon received his Doctor of Dental Medicine form the University of Florida College of Dentistry. He's been trained in all aspects of general dentistry and can help patients find the root of their health issues while treating their symptoms. To schedule an appointment at his practice in Ocala, Weldon General and Cosmetic Dentistry, visit his website or call (352) 622-3236.