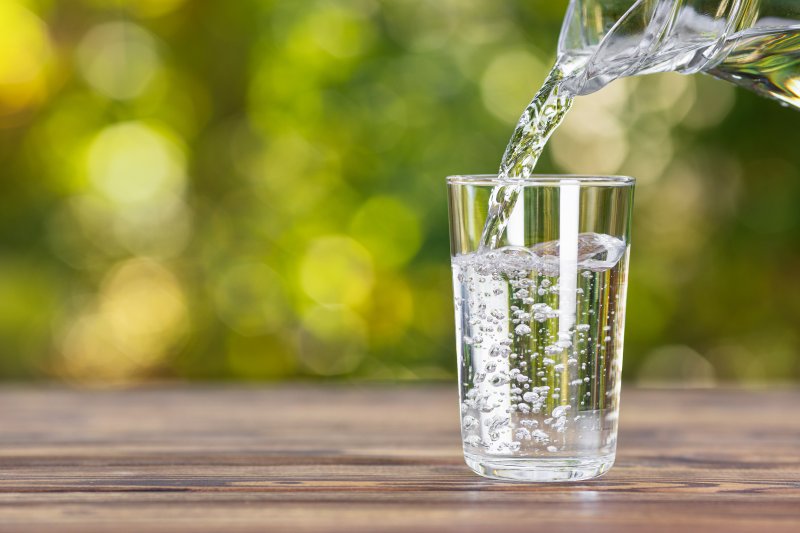 Do you drink plenty of water? Are you bias toward one particular brand over another? Do you prefer flavored or all-natural H2O? Everyone has a preference, and although any doctor or dentist will tell you that water is far better than any soda or juice product, there are actually some brands that are better than others. Why? Because of their pH levels. Read on to find out exactly what is in your favorite water and if it's helping or hindering your smile.
What is pH?
When determining what the pH level is of a particular substance, it means looking at how acidic or basic a water-based solution actually is. Using a scale ranging from 0-14, a 7 is considered neutral. Anything below it is more acidic while anything above it is alkaline. As it pertains to oral health, tooth enamel can begin to erode at a 5.5. This is why it is important to know the pH level of any beverage you are consuming.
Soda, juice, coffee, tea, and alcohol are all damaging to your teeth, but what you may not realize is that some of the different brands of water that are available on the market can also be harmful. Apart from some types being highly acidic, bottle water also lacks the vital fluoride teeth need to stay protected and strong. Not only is this factor important for adults, but it is even more crucial for young children with developing teeth.
This is why many dentists will recommend drinking plenty of tap water, as it is regulated by the government and contains beneficial fluoride.
What Are the pH Levels of Different Brands of Water?
If you're unsure what the pH level of your favorite brand of water is, don't worry, you're not alone. Fortunately, researchers have looked into it and provided a breakdown of some of the most popular products:
Dasani (regular): 5.03
Dasani (flavored): 3.05
Perrier: 5.25
Vitamin Water Zero (Flavored): 3.05
Crystal Lite: 2.77
Voss: 4
Fiji: 8
Volvic: 7.5
Poland Spring: 7
Evian: 8.5
Other products such as Powerade, Sugar-Free Redbull, Lemon Juice, and Tropicana Orange Juice all fall below 5.5 and will strip away your tooth enamel over time. This can lead to increased tooth sensitivity, staining, discoloration, and it can make you more susceptible to tooth decay and cavities.
The important thing to remember is that moderation is key. Having a sip or a drink of your favorite soda probably won't hurt you, but if you have it too often, you'll begin to notice issues with your oral health.
Water will always be your best solution when it comes to selecting a drink of choice but don't forget to do your research. If you want to know more about the water you're drinking and whether it is harming your teeth, talk to your dentist. They will be happy to provide valuable insight and information, so you can keep you and your family's smiles safe from erosion.
About the Author
Dr. Daniel Weldon earned his bachelor's degree in biochemistry from the University of Florida before going on to obtain his Doctor of Dental Medicine from the University of Florida College of Dentistry in 2008. He and his team at Weldon General and Cosmetic Dentistry provide gentle and compassionate care to all patients who are seeking treatment. Offering preventive services to help stave off various dental problems, he will be more than happy to discuss ways in which you can improve and maintain a healthy smile at home. From oral hygiene tips to which water you should be drinking, you can trust your smile with Dr. Weldon. To learn more about him or available services, visit our website or call (352) 622-3236.