Implant Dentures – Ocala, FL
Fully Rebuild an Entire Arch of Teeth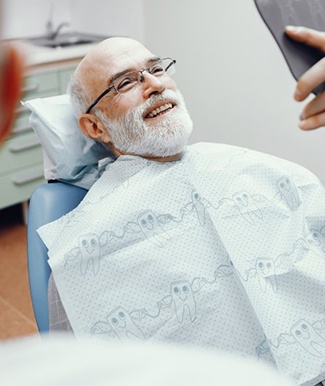 Although traditional dentures offer a reliable and essential solution for replacing missing teeth, they can sometimes come with challenges, such as slipping out during awkward moments. If you want a more stable foundation for your pearly whites, you'll want to consider combining your prosthetics with dental implants. At our practice, we offer implant dentures to help complete your smile without any of the drawbacks of traditional options. Keep reading to learn more or give us a call today to schedule your consultation!
What Are Implant Dentures?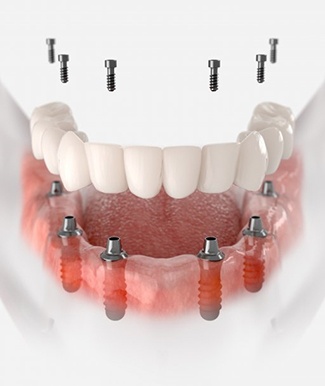 Unlike regular prosthetics which either rely on healthy nearby teeth or suction with the gums, implant dentures will be fastened in place via titanium posts embedded into your jawbone. This procedure will provide you with a new set of "roots" that will stimulate your jaw, promoting stronger and healthier bone tissue for optimal stability. In many cases, you'll be able to choose between two solutions: fixed or removable implant dentures.
Fixed/Permanent Implant Dentures
This option offers a more permanent restoration, as your artificial teeth will be designed to stay in place indefinitely. The only one who should be able to remove them is your dentist. By placing 4-6 dental implants in particular positions and angles in your jawbone, your implant denture should remain and function like your natural pearly whites. Of course, this procedure will require you to have sufficient jawbone density to support the implants successfully.
Removable Implant Dentures
This treatment usually involves placing only 2-5 dental implants to support your dentures, as you'll be able to remove them like traditional prosthetics. This also means you'll need to take them off for regular cleaning since bacteria can accumulate in the area where the base meets your gumline.
The Implant Denture Process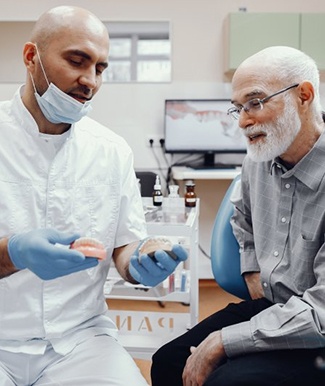 You'll first undergo an initial consultation where our team will assess your oral health and determine if the treatment is right for you. If you have any underlying issues, such as gum disease or insufficient bone density, then we'll need to perform preliminary services beforehand. This may involve periodontal treatment, bone grafting, or even extractions.
Once you're ready for the surgery, you'll undergo the procedure to receive dental implants. These posts should integrate with your jawbone over several months via a process called osseointegration. Afterward, you'll receive the abutments on your implants.
During your recovery, we'll customize your dentures to match your specific smile. Once you've healed completely, you'll return to us to have your artificial teeth attached to the abutments. After any minor changes, you'll be able to enjoy your fully rebuilt smile.
Am I a Candidate for Implant Dentures?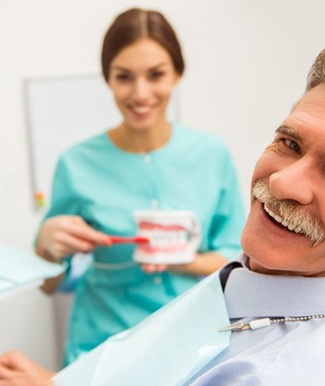 Implant dentures offer a life-changing method for patients needing to renew an entire arch of teeth. Of course, they'll need to meet certain conditions, such as:
No underlying/developing oral health problems
Sufficient jawbone density
Committed to practicing good oral hygiene
If you aren't currently eligible for the procedure, we can work with you by performing preliminary treatments to get your mouth ready to support the implant dentures. We'll be sure to walk you through the process and what to expect.
Benefits of Combining Dentures & Dental Implants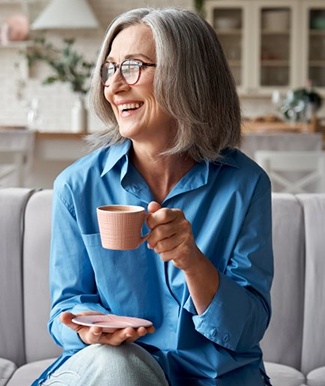 With implant dentures, you'll be able to appreciate a range of advantages to your smile, including:
Improved biting power
Enhanced stability
Lifelike and durable results
Preserved jawbone and youthful facial shape
A solution that can last decades with proper care