Multiple Tooth Replacement-Ocala, FL
Close the Gaps for Good
You're not able to enjoy all of the foods you want, speaking feels awkward, and you always think twice before smiling. Why? Because you, like millions of other Americans, have multiple missing teeth. This kind of problem can severely affect both the aesthetics as well as the function of the smile, making even the simplest tasks feel uncomfortable and even painful. However, you can get a strong, reliable, and natural-looking multiple tooth replacement right here in Ocala. With Dr. Weldon, you can reclaim both your bite and your confidence at the same time.
What Are My Tooth Replacement Options?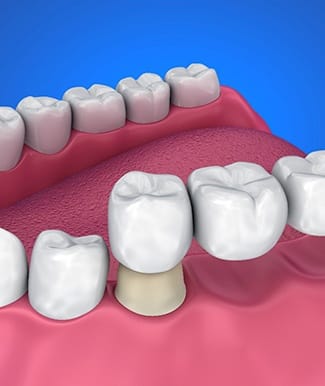 Depending on how many teeth you are missing and where they are located, Dr. Weldon can recommend one of the following options to you:
Crown & Bridge
This kind of prosthetic is ideal for patients who are missing multiple teeth in a row. Two dental crowns are fitted over the teeth on either side of the missing ones, and they are used to support the prosthetic teeth that fill in the gap.
Implant-Supported Bridge
For this kind of bridge, instead of using crowns on adjacent teeth, dental implants are what hold the prosthetic in place, giving it a much stronger foundation. This is typically recommended for patients who do not have enough healthy dental structure to support a regular bridge.
Partial Dentures/ Implant-Supported Partial Dentures
A partial denture can be used to replace multiple consecutive and nonconsecutive teeth along a single row, and they consist of ceramic teeth attached to a gum-colored base. They are traditionally held in place using small metal clasps that loop around neighboring teeth, but we can also anchor them directly to the jawbone with dental implants to provide an even better hold.
Which Solution is Right for Me?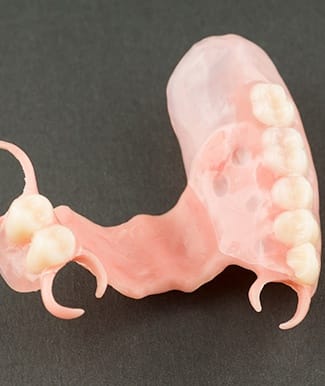 Certain factors can make a patient better suited for one type of replacement over another. If someone's remaining teeth are relatively healthy and their missing teeth are all together, then a traditional bridge is probably the right choice. However, if a patient's remaining teeth are less reliable, then an implant-supported bridge would be a better choice. And of course, if the missing teeth are not all in a row, a type of partial denture would be required. Depending on the health of a patient's jawbone and their budget, this would determine whether or not implants would be used to secure the denture.
How Much Does it Cost to Replace Multiple Teeth?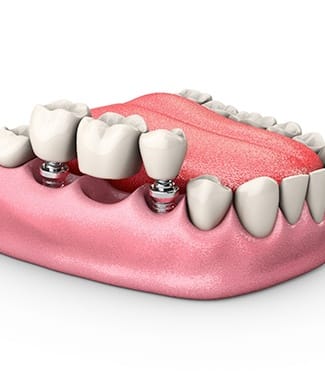 All of these treatments are quite versatile and can be custom-designed to fit securely into any patient's mouth despite where they are missing teeth, but this means that their cost can vary quite a bit from person to person as well. Generally, the more teeth a patient wants to replace, the more their treatment will cost, and implant restorations are typically more expensive than traditional ones…at least up front. While implant restorations may have a higher initial price, they tend to last much longer and require less maintenance than more traditional options, making them the better long-term investment.
Our team will discuss all of your options and their associated costs thoroughly so you can make a confident decision. We'll also go over how insurance and financing can help make your treatment even more budget-friendly.
We're Ready to Help
Life without a full set of teeth can cause tons of little problems every day that drastically affect someone's quality of life, but with our replacement options, we can easily make them all go away for a lifetime to come. To learn more about how our team can help you rebuild your smile, contact us today.